Best quarter ever: a closer look at Apple's record Q108 earnings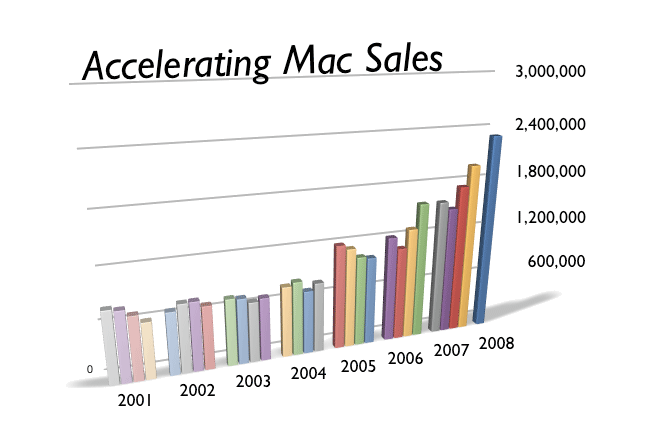 In a conference call reporting earnings for Apple's fiscal Q1, the quarter ending in December, Chief Financial Officer Peter Oppenheimer announced he was "very pleased to report the best quarter ever" for the company, with revenue of $9.6 billion and net quarterly profit of $1.58 billion, resulting in $1.76 per diluted share.
That's an increase of over $2 billion from the same quarter last year, when Apple reported revenue of $7.1 billion and net quarterly profit of $1 billion, or $1.14 per diluted share.
The company reported a gross margin of 34.7 percent, up from 31.2 percent in the year-ago quarter. International sales accounted for 45 percent of the quarter's revenue.
Chief operating officer Tim Cook noted that the "Mac business is on fire," and that sales of computers were higher than Apple had internally projected for the quarter. That strong demand resulted in Mac inventory falling below the company's goal of maintaing 4 to 5 weeks of channel inventory, down to a lean supply of 3 weeks.
Apple shipped 2,319,000 Macs, racking up 44 percent unit growth and 47 percent revenue growth over the year-ago quarter. Macs currently make up 47 percent of Apple's business. The strong growth in Mac sales outpaced overall PC growth by a factor of five and growth in education by a similar figure, based on market expansion numbers published by IDC.
While Mac growth has been fueled by brisk laptops sales in the past, desktop Mac sales rebounded to achieve 53 percent growth thanks to rapid sales of the new Aluminum iMac models released in August. The new iMac was even a strong seller in Japan, where sales of desktop computer have actually shrunk. That helped to Apple to grow in the region after quarters of disappointing sales.
Another popular product fueling growth in Japan was the iPod Touch, which Apple representatives repeatedly highlighted as "the first mainstream WiFi platform for mobile applications."
Unlike previous years where Apple achieved iPod unit sales growth through sales of cheap Shuffles and Nanos, this year the Touch played a critical role in expanding the iPod from a music player toward being a multipurpose mobile wireless device.
Oppenheimer and Cook explained that Apple entered the quarter with new goals for the iPod: maintaining Apple's high existing market share in the US and growing internationally, while expanding the business into a new WiFi mobile platform pioneered by the iPhone.
Facing the challenges of increased competition from cheaper, simpler devices and what analysts have feared might be a saturated market for MP3 players, Apple had to risk offering a new device with more computing power and an expensive, larger LCD display.
The enthusiastic response to the iPod Touch resulted in flatter sales volumes for iPods overall but an Average Sales Price of $181, which Oppenheimer noted sent year over year revenues up 72 percent. Apple still met its guidance for iPod sales, selling 22,121,000 units, representing five percent unit growth and 17 percent revenue growth over the year-ago quarter.
While sales growth of the iPod was relatively flat in the US, and Apple may have sacrificed some unit growth by marketing an innovative new premium product with the iPod Touch. Cook noted that international iPod sales were up and "share gains stunning" in the UK, France, Spain, and across Asia.
The quarter also marked the "highest growth rate in revenue for the iPod in a year."
International iPhone Growth
Quarterly iPhone sales were 2,315,000, bringing Apple's cumulative smartphone sales for the 2007 calendar year to 3.7 million. In the first two weeks of 2008, Apple sold another 300,000 units, breaking the 4 million mark for Macworld Expo. That suggests iPhone sales are not losing any momentum.
When asked about the number of iPhones sold with the intent of being unlocked, Cook described the number as "significant", but said Apple was "unsure how to reliably estimate" the actual number. Increased sales during the holiday gift buying season made it difficult to compare sales with activations because some recipients may choose to activate their new phones in the future after their current mobile contract expires.
Cook said the unlocked sales were a problem, but also "an expression of strong interest in iPhone globally," and therefore not among the worst problems to have. He described iPhone momentum as high and reported being very happy with the late 2007 iPhone launches in the UK, Germany, and France. Apple now has 2,500 storefronts selling the iPhone in Europe and around 2,100 in the US.
Apple reiterated plans to expand the iPhone into other European markets and Asia within the company's fiscal year 2008, which ends in September, but refused to comment on new product introductions, including a 3G model, or specific plans for individual regions such as Japan or China.
Sales of the iPhone in Europe presented "no obvious evidence of cannibalization" of iPod sales, but Cook noted that it may have had some impact on iPod growth in the US, where iPod unit growth was softer for a variety of reasons, including the current economic downturn.
What's in the Pipeline: MacBook Air
Apple representatives avoided making economic precautions about the outlook of the US consumer electronics market, but reiterated plans to continue to innovate and deliver desirable products to "delight customers and gain share."
When asked if the product pipeline would be as exciting as last year, Apple representatives expressed being "very confident in our business strategy and products." Consumer reaction to the MacBook Air has been "great with strong orders," but Cook noted it was too soon to tell if the Air would dramatically expand Apple's laptop business or serve to replace sales of MacBook and MacBook Pro laptops.
While Apple has warned about the risk of high component pricing eating into its operations in the past, Cook noted that the market is currently favorable, with DRAM and NAND Flash memory in "oversupply conditions" and LCD, hard drives, and optical discs in balance. Most other components are seeing historic level price declines, he added.
iTunes Rentals and Apple TV
Gene Munster of Piper Jaffrey asked if Apple still views Apple TV as a hobby. Cook responded by echoing the comments Jobs made in his keynote, admitting that "many companies have tried and missed. With the Apple TV Take Two, we think we have it right this time. I think we have a great product."
Cross Research asked if Apple sees the new iTunes movie rentals as an incremental boost to sales of Apple TV and iPods or a new conduit of profitability. Oppenheimer reiterated that Apple's "objective with the iTunes Store is to run it a little above break even, to sell iPods and Macs. That's our strategy."
Apple TV sales and the new movie rental business associated with it appears to be trending toward the company's big news of the year, as noted in Apple TV Promises to Take 2008.
Apple's own retail stores earned an average of 8.5 million in revenues per location, adding up to $1.7 billion in income in the quarter, a 53 percent increase over last year. There were 38.4 million visitors, an increase of 10 million over the previous year's quarter.
Apple's 204 stores, 25 of which are outside the US, sold over a half million Macs to customers, half of whom were new to the platform. Its retail stores also performed 300,000 personal training sessions.
The company plans to open 35 to 40 new retail stores in fiscal 2008, including more new international stores than were opened last year, with China highlighted among the new international locations. The company's US retail sales are are up 27 percent, and international retail sales are up 46 percent.
Apple also plans to dramatically expand its relationship with Best Buy, which currently involves 286 stores. Over the next six months, the two partners will expand Mac sales into 600 Best Buy locations. Cook reported being "very happy with their relationship."
The company also reported strong earnings from software sales, which along with a favorable component market, helped to boost margins to 34.7 percent.
Apple reported revenues of $170 million on retail copies of Mac OS X 10.5 Leopard in its first quarter of sales, compared to $100 million in 10.4 Tiger sales in its debut quarter back in 2005. Apple estimates that 19 percent of the installed base of Macs are now running Leopard.
Strong retail sales of Leopard came despite record Mac sales, which come bundled with the new operating system. Cook observed that Leopard has helped fuel new Mac sales in addition to boosting the company's software revenues.
Apple's rich retail and education sales have also been matched by strong sales associated with pro audio and video markets. In addition, Apple's iPhone and Apple TV sales have accrued $1.44 billion in deferred revenue, which the company accounts as an annuity-like profit stream on a subscription basis.
The result is a strong cash position, with $18.4 billion in cash reserves and no debt. Apple added another $3 billion in cash, $2.76 billion of which came from operations. "We are, I think," Oppenheimer said, "managing the business very very well."
What will Apple do with its cash pile? Oppenheimer noted that "stock buyback programs and other forms of returning cash are discussed with the board from time to time, but our preference continues to be to maintain a strong balance sheet in order to preserve our flexibility to make strategic investments and or acquisitions."
In addition to the suspects profiled in Who Was the Biggest Loser at Macworld?, it appears the biggest Macworld losers in January have been the speculative short term investors ready to dump their stock at basement prices in a challenging economic environment.