iPhone's share of US smartphone market rises to 28 percent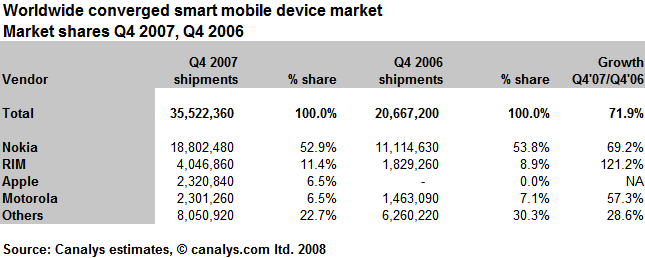 AppleInsider is supported by its audience and may earn commission as an Amazon Associate and affiliate partner on qualifying purchases. These affiliate partnerships do not influence our editorial content.
Apple Inc. managed to garner approximately 28 percent of the red hot US smartphone market during the fourth calendar quarter of 2007, up more than 43 percent from the three-month period ending September.
According to a report issued Tuesday by market analysis firm Canalys, the iPhone's 28 percent share placed it second in the US market behind only RIM's with 41 percent share, and well ahead of Palm, whose 9 percent share placed it a distant third.
The boost, up from the 19.5 percent third quarter share announced by Apple chief executive Steve Jobs at last month's Macworld Expo, was also enough to put the Mac OS X-based handset ahead of all Windows Mobile device vendors combined, whose share was 21 percent in the quarter according to the Canalys' figures.
"When you consider that it launched part way through the year, with limited operator and country coverage, and essentially just one product, Apple has shown very clearly that it can make a difference and has sent a wakeup call to the market leaders," said senior analyst Pete Cunningham. "What it must demonstrate now is that it can build a sustainable business in the converged device space, expanding its coverage and product portfolio.
In Europe, where the iPhone officially launched part way through the quarter in only three countries, Apple took the fifth spot behind Nokia, RIM, HTC and Motorola, but ahead of several established smart phone providers such as Sony Ericsson, Samsung and Palm.
Meanwhile, the Cupertino-based company's combined shipments of 2.32 million iPhones during the fourth quarter were also good enough to place it third in the worldwide smartphone market, ahead of Motorola's 2.3 million unit shipments, but behind RIM's 4.0 million and Nokia's 18.8 million.
In addition to expanding its coverage and smartphone portfolio going forward, Apple also needs to ensure that the exclusive relationships that got it so far so quickly do not prove to be a limit on what it can achieve, according to Cunningham.
"Apple's innovation in its mobile phone user interface has prompted a lot of design activity among competitors," he said. "Experience shows that a vendor with only one smart phone design, no matter how good that design is, will soon struggle. [...] This race is a marathon, but you pretty much have to sprint every lap."
Earlier on Tuesday, Apple expanded its iPhone offerings by introducing a model with 16GB of storage for $499, which joins the existing 8GB model at $399. The new model, however, is cosmetically and functionally equivalent to the 8GB model.