Apple files first lawsuit in defense of "Made for iPod" licensing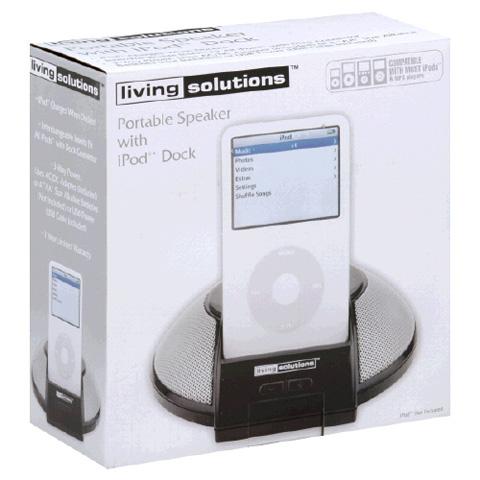 The first test of Apple's licensing system for iPod accessories has come with the launch of a complaint by the company against Atico International, whose iPod speakers allegedly infringe on patents behind the "Made for iPod" label.
In the ten-page suit submitted this week, Apple claims that a trio of Atico's products under the Living Solutions brand — including the AM/FM Portable Boom Box, AM/FM Alarm Clock Radio, and Portable Speakers — all tread on several key patents obtained by the Cupertino, Calif.-based electronics giant between 2007 and 2008.
These include a patent for the Dock Connector used by most iPods to transfer data, as well as patents for the Universal Dock's design, remote controls, and three dock adapters meant to fit different-sized iPods to a standard dock model.
In a copy of the complaint obtained by AppleInsider, Apple contends that Atico has failed to license its use of the docking design for the speakers, depriving Apple of royalties it believes are owed to its "Made for iPod" program. Uses of the iPod trademark, as well as some superficially similar logos designed to indicate compatibility with different iPod models, are also "exploiting Apple's name and reputation" and violating the federal Lanham Act by falsely suggesting an endorsement by Apple, according to the plaintiff.
The Delaware-based court filing adds that Atico's continued sales are depriving Apple of rightful income and asks for a permanent injunction against the sale of the offending Living Solutions speakers in addition to damages. The iPod maker sees this as an "exceptional case" that would allow it to collect not only triple damages but profits and court costs, including those for a requested jury trial.
The case marks the first known instance of Apple actively defending its controversial "Made for iPod" licensing program, which was launched in January 2005. Both in its lawsuit and in public presentations, Apple has argued that requiring licenses for iPod-specific peripherals helps the accessory designers by giving them the support to ensure their devices work with iPods. It also reassures buyers that a device meets a minimum quality standard, the company says.
Virtually all companies selling compatible accessories in the US have signed on to the program, with some arguing that the "Made for iPod" logo is effectively a sales booster: customers are more likely to buy add-ons when they know the items will work with their iPods.
Critics, however, have claimed that the need to license and pay royalties for the logo is chiefly a profit vehicle for Apple, which implemented the licensing system just as the iPod became mainstream and a raft of docking accessories were already in stores.
No matter how Atico interprets the move, the company is remaining quiet on the matter: neither it nor Apple has commented on the lawsuit.