Photos of 2.8- and 3.2-inch iPhone-like touch panels surface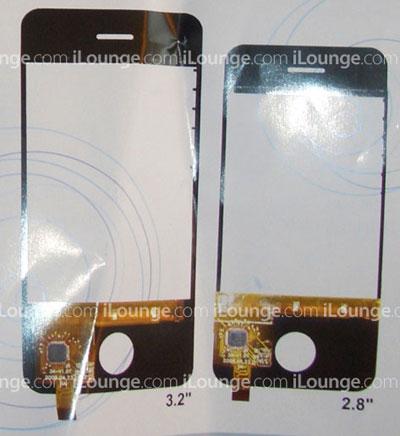 Images depicting a pair of touch-screens reminiscent but slightly smaller than those employed by Apple's existing iPhone and iPod touch have surfaced on the web, fueling speculation over whether the electronics maker has plans to introduce a smaller version of its phone or multi-touch iPods in the near future.
The photos, provided to iLounge, are of naked touch-screen components from Host Optical, a Taiwanese company that claims it's supplying the parts to Apple for the next-generation iPhone. It calls the parts "projected capacitance touch panels," and claims they contain technology that make them superior to those from Germany-based Balda used in the first-generation iPhone.
More specifically, Host claims the screens lack an aging effect, meaning they'll last longer and won't fade in sensitivity over the years. They're also said to be more robust and resistant to water and climates with high humidifies. However, even iLounge doubts the company's claims that the parts are destine for Apple's highly anticipated 3G iPhone, due to arrive next week.
"To be clear, we believe that there is zero chance that a 2.8" screen is going to be in Apple's first 3G version of the iPhone, but as a component for an iPhone mini/nano, as well as a fourth-generation iPod nano, it makes a lot more sense," wrote Jeremy Horwitz. "Notably, Host's displays place two and only two sensors off to the right of the ear speaker, a detail that doesn't track with what we've heard about the 3G model."
Indeed, the vast majority of reports circulating on the Internet over the past few months have portrayed a next-generation iPhone with relatively the same exact footprint as the current version, the only disparity being some added tapering around the edges and opposing views over whether the model would be thicker or thinner.
Intriguing, however, is that on April 29th the Chinese-language Taiwan Economic News cited sources in saying that Apple's second-generation iPhone would be both lighter and more compact than the existing version. In its report, the newspaper specifically mentioned that the "LCD screen on the phone measures 2.8 inches diagonally, a downsize from first generation`s 3.5 inches."
The growing consensus amongst people analyzing the flurry of next-generation iPhone reports is that Apple may possibly introduce two new models: a 3G model relatively the same size as the current iPhone at existing prices and a shrunken 2.5G model for considerably less.