iPhone 3G seen 'repeating history' with record 14m sales in 2008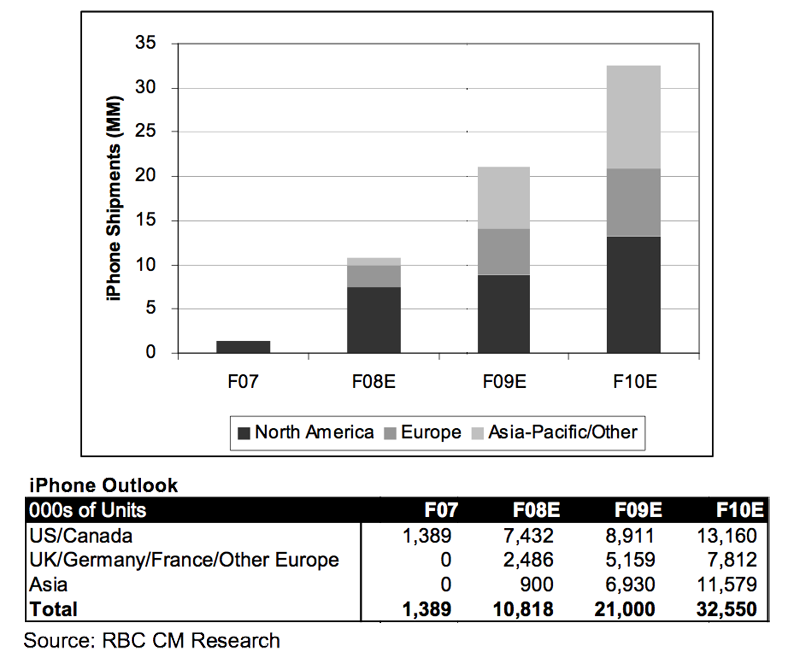 AppleInsider may earn an affiliate commission on purchases made through links on our site.
The impact of the iPhone 3G's faster Internet access, new markets, third-party apps, and very low pricing should trigger a new sales rush that does for the iPhone what 2005 accomplished for the iPod, according to a new report from RBC Capital Markets.
Analyst Mike Abramsky of the bank makes the historical connection by noting that Apple's careful management of the iPhone could once again lead to a "breakout" in shipments, which the analyst predicts will triple in the summer to 5.1 million and nearly double last year's holiday volume to 6.5 million, pushing the Cupertino, Calif.-based company well past its official 10 million-unit goal for the year to as many as 14 million phones.
"We believe investors are underestimating the upside to Apple from lower iPhone pricing, 3G speeds and expanded global distribution," Abramsky says.
The researcher notes that late 2005 was a watershed moment for Apple and saw the firm more than double its holiday iPod sales at the time to 14 million units, cementing the player's position in the marketplace.
Abramsky in particular sees the iPhone 3G's price as doubling sales momentum by itself. The $199 subsidized price is labeled a "sweet spot" for most buyers and should still put the iPhone on par with other pay-as-you-go smartphones in Europe, which often near or exceed the iPhone's €499 price in Italy and other countries that will offer a non-subscription alternative.
The low price may also create an unusual upgrade path for iPod owners, the analyst says: with the device cost in line with many iPods, a "massive" amount of the 150 million existing iPod owners may trade up to an iPhone rather than simply replace their iPods with newer equivalents.
That success is only expected by Abramsky to continue into next year. Apple's total potential user base for the iPhone will expand by at least five times by the end of 2008 and, barring shortages or launch problems, is estimated to lead to as many as 24 million iPhones shipped over the course of 2009.
Shares of Apple rose $4.47 or more than 2.5 percent to close at $176.84 on the Nasdaq stock market.