Orange says iPhone 3G to sell for 149 euros on July 17th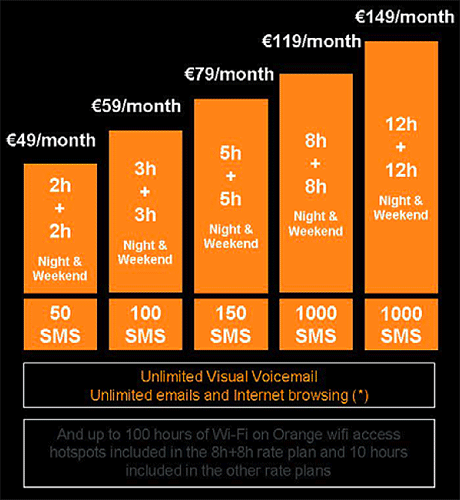 AppleInsider is supported by its audience and may earn commission as an Amazon Associate and affiliate partner on qualifying purchases. These affiliate partnerships do not influence our editorial content.
France Telecom's Orange said Thursday it will launch Apple's much anticipated iPhone 3G in France on July 17th with prices starting at 149 euro ($233) for the 8GB model.
The exclusive French carrier of the touch-screen handset said the 16GB model will fetch 199 euro. Both subsidized prices require that customers also purchase a subscription to one of its existing "Orange for iPhone" plans (below), or its Origami Star (from 3 hours), First or Jet plans.
With other plans (except time-cutoff and pay-as-you-go), the 8Gb iPhone will sell from 199 euro and the 16Gb model from 249 euro, Orange said. For instance, customers can get the 8GB model for 199 euro with a one-hour Origami Star plan that costs 32 euro and offers up to 500MB of monthly internet access.
Meanwhile, "Orange for iPhone" plans (below) start at 49 euro per month for a plan that includes 2 hours of normal talk time, 2 hours of late evening and weekend minutes, and 50 SMS text messages. The most expensive plan is priced at 149 euro and includes 12 hours of normal talk time, 12 hours of nights and weekends, and 1000 SMS messages. All "Orange for iPhone" plans include Visual Voicemail and up to 500MB of monthly data usage.
Orange will also offer the 8Gb 3G iPhone from 199 euro and the 16Gb version from 249 euro with a 24-month contract under its loyalty upgrade program.
Preferential upgrade offer
As part of the carrier's "Change your mobile" promotion, Orange customers who purchased an iPhone before 12 June 2008 and are using it with an Orange plan (except time-cutoff, Initial and Mobicarte) will be able to buy the 3G iPhone for 99 euro through a 100 euro refund valid until 31 October 2008. The offer requires a 24-month contract.
The 3G iPhone will also launch for Orange Business Services clients on July 17th. Business clients will also be eligible for the "Change your mobile" offer.
Orange said its 3G network currently covers over 66 percent of the French population.