AT&T memos detail iPhone 3G unbricking tool, crowd planning, more...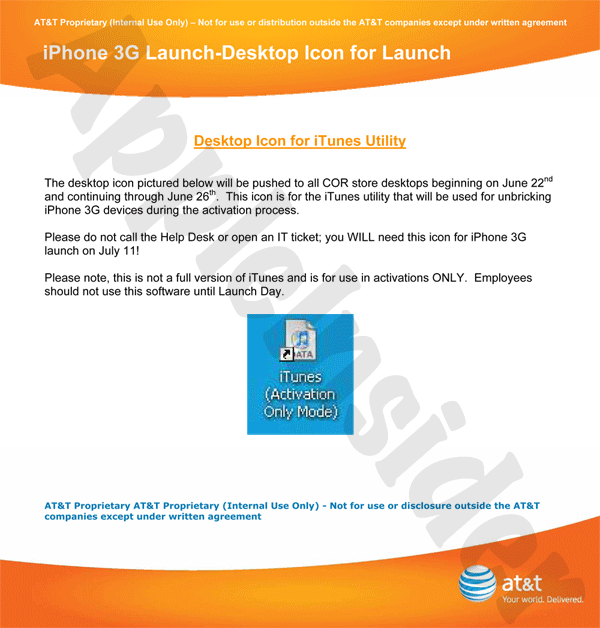 A recent series of internal memos from AT&T to its Mobility staffers reveal a variety of preparatory measures ahead of next month's iPhone launch, including the deployment of an iPhone 3G unbricking tool, ongoing 3G network optimizations, regional advertising campaigns, and calls for part time crowd control, inventory runners, and floor coordinators.
Specifically, one memo issued late last week noted that all company owned retail stores would soon see their desktop systems updated with an icon (below) "for the iTunes utility that will be used for unbricking iPhone 3G devices during the activation process." Employees were asked not to use the partial iTunes software until launch day, but were told that they "WILL need this icon for iPhone 3G launch on July 11th!"
The instructions support expectations that, at least in the case of sales at AT&T stores, each iPhone 3G will need to be unboxed and fully activated at the point of sale. In a second memo, the wireless carrier put out a call for additional part time staffers for launch weekend, which listed among the available positions a back office manager / inventory runner whose job would include bringing iPhone 3Gs from the inventory room to retail sales consultants and then helping to unbox them in order "to facilitate unbricking."
Call for Part Time Staffers
"Although we cannot predict the number of customers who will visit our stores the weekend of July 11 - 13, we want to be prepared for crowds," AT&T's vice president and general manager for the New England region told staffers in that memo. He asked that employees consider adopting at least one additional four- to seven-hour shift during the weekend, as additional staff are needed to fill a variety of positions, including Crowd Manager, Greeter, and Floor Coordinator.
Among the duties required of a Crowd Manager will be to "coordinate efforts with Line Manager to ensure customers are iReady," and set up stanchions to facilitate the queuing process. Greeters will be required to welcome customers to the store "within 10 feet or 10 seconds," as well as control the flow of those customers in and out of the store. Meanwhile, Floor Coordinators will be tasked with managing the occupancy level of the store and ensuring customers are sold iPhone 3Gs in the order in which they arrived.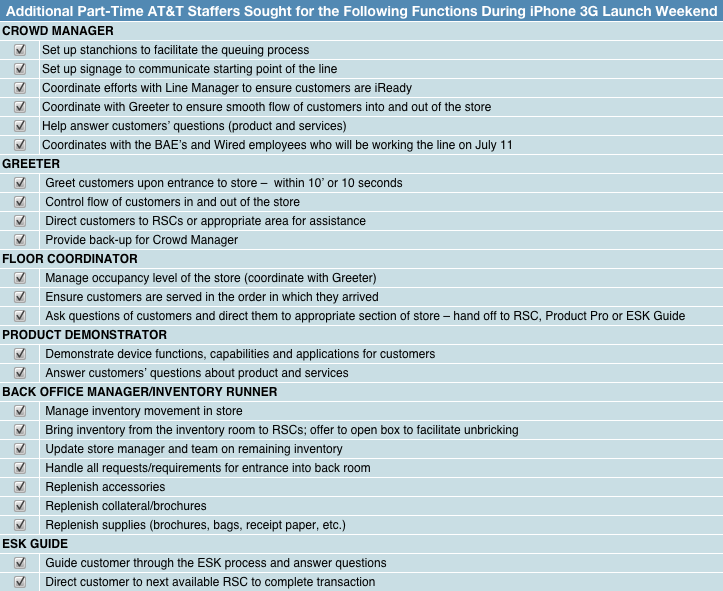 Simultaneously, AT&T's network engineers continue to optimize the carrier's 3G network to "ensure the very best experience" for customers while "delivering high-quality service and speeds." In particular, a third memo obtained by AppleInsider noted that preparing for the upcoming 3G iPhone launch "includes implementing improved design metrics, some of which were lessons learned from the previous 'Fine EDGE' program:"
Identify and add radio capacity where needed.
Provide an extra carrier, enhancing capacity even more with an 850 overlay.
Performance triggers (for additional resources) designed to go earlier.
Escalate additional overlay work (2009) for possible 2008 future expansion.
Address core network; sized to handle additional T1 now and adding capacity as triggers dictate.
Modify system parameters to maximize resource efficiencies.
Finally, AT&T said that over the next few months, it plans to rev up a new series of regional advertising campaigns that will focus on network strength and exclusive devices like the iPhone 3G.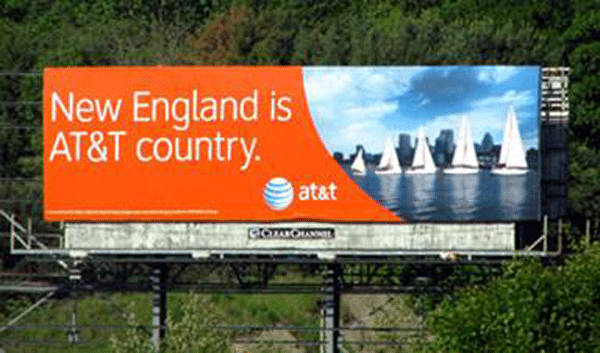 "Over the next few months you will notice a local advertising campaign that focuses on network strength," the carrier told employees. "You will hear it on the radio and see it online, on billboards, on bus wraps and other out-of-home media."
AppleInsider also recently covered an internal memo from Apple to its own retail staffers.