Apple testing first bug fix update to iPhone Software v2.0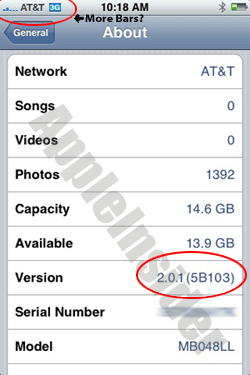 Apple is already testing the first maintenance and security updates for version 2.0 of its iPhone Software that aim to improve performance and fix a number of outstanding bugs.
The updates, which revealed themselves as iPhone Software 2.0.1 in the Apache server logs at BGR, are currently making the rounds in the form of two distinct builds: build 5B101 for first-generation iPhones and build 5B103 for the new 3G iPhones.
Although Apple began testing the updates prior to the official release of iPhone Software v2.0 on Friday, neither have made their way into the hands of iPhone developers.
Instead, Apache server logs reveal, and AppleInsider can confirm, that requests from phones running the new builds are coming primary from the San Francisco Bay Area (near Apple's Cupertino headquarters) and Atlanta (AT&T's home base).
Since testing has remained internal, it's unclear exactly what areas of the software the updates will target. Some users, however, report that iPhone Software 2.0 effectively crippled the camera applications on both their original iPhone and new iPhone 3G.
After updating, these users report that it takes a full six seconds between the time the camera application launches and when the digital shutter opens to allow a photo to be taken. This has made the iPhone's camera somewhat useless, those users explain, especially for the spontaneous photos for which it has become most popular.
Separately, a number of other users are reporting a variety of problems with the accelerometer on their new iPhone 3Gs. These include jerky responses, unintentional landscape shifts, or no response at all after the handset sleeps.
One user on the Apple Discussion Forums explains that the misbehavior of his accelerometer is also having an adverse affect on his photos.
"[T]he camera app thinks I'm holding the phone upside down, so the photos are stored upside down!," he wrote. "A reset always fixes the problem. If I set "Auto-Lock" to never and don't press the sleep/wake button then the accelerometer works perfectly. Of course this isn't exactly practical."