AOL releases public beta of iChat-like Instant Messenger client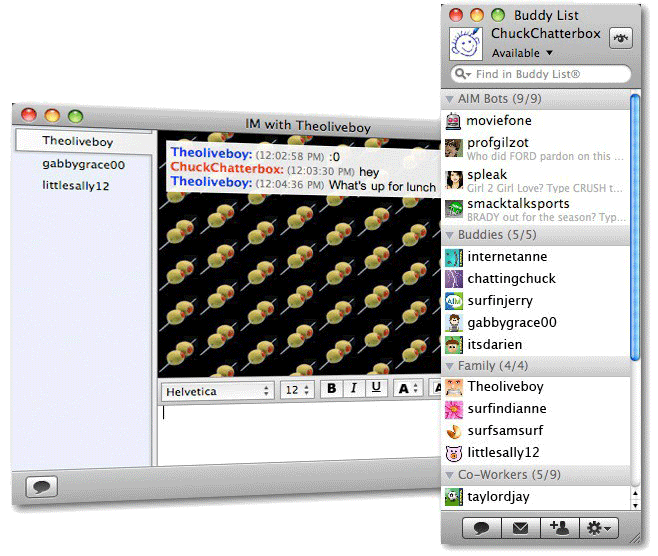 On the heels of a successful launch of its AIM client for the iPhone, AOL on Tuesday announced a public beta of its next-generation AIM client for the Mac — its first major update to the software in over four years.
The new version, built from the ground up, features a redesigned platinum interface akin to Apple's own instant message client, iChat. An availability menu, buddy search function, and visibility toggle are available from the new buddy list window.
Individual chats are now organized as tabs in a global "IM" window, similar to third-party clients like AdiumX and an option available to iChat users. Users can customize chat windows with something AOL is calling AIM Expressions, which lets users add custom sounds, wallpaper, emoticon sets or buddy icons.
The Mac beta also features one-click access to AOL mail, or other Mail clients like Apple's Mail.app. It also supports friendly buddy names, AIM Groups, and AIM Blast groups.
AIM for Mac beta 1 requires a PowerPC G4 or Intel Macintosh, Mac OS X Version 10.4.8 or higher, and at least 256 MB of physical RAM. It's available as a free download.
Separately this week, Beejive Inc., developers of the popular Beejive for iPhone Web-based instant messenger client, has released a native version of the chat software for the iPhone.
The company promises that the new software will be "gentle" on your iPhone's battery and deliver reliable and efficient connections over EDGE, 3G and WiFi.
BeejiveIM is compatible with all major IM networks and supports background notification when the application is closed for users who have Mobile me or Exchange/Active Sync push email.
It also supports full landscape mode, SMS messages to mobile phones, buddy list management, and chat logs. Future versions will reportedly deliver group chats, emoticons, and full hyperlink support.
Though the software is steeply priced ($15.99 App Store), it has thus far been met by strong reviews.