Apple says new MacBook Airs to ship first week of November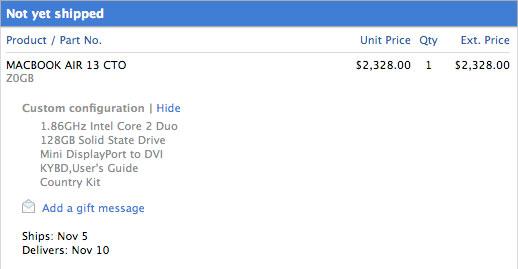 Apple Store customers who ordered Apple's new 45-nanometer MacBook Airs with the understanding that they would not ship until "Early November" now have a more definitive date to go by.
AppleInsider reader Miguel, who purchased a custom configured 1.86GHz model with a 128GB Solid State Drive and Mini DisplayPort to DVI adapter, saw his shipment status updated to November 5th on Thursday. According to Apple, the product should arrive within five days thereafter. Meanwhile, some German Apple Store customers have received ship quotes for October 30th.
The original MacBook Air contained a 65-nanometer versions of the processor that Intel shrunk extensively and exclusively for Apple and Lenovo, a spokesperson for the chipmaker said.
The new 45-nanometer chips are being employed by several OEM's in addition to Apple. Nicknamed the Core 2 Duo S, the 1.6GHz and 1.86GHz parts run at nearly the same clock speeds as their processors used in the first-generation MacBook Air, but support a faster 1.06GHz system bus (up from 800MHz) and a larger 6MB Level 2 onboard memory cache.
MacBook Airs will start shipping in about three weeks.
They new 45-nanometer chips also consume less power at just 17W compared to the 20W of the custom-ordered 65-nanometer versions.