Apple's "real" earnings grew a staggering 124.6% in Q4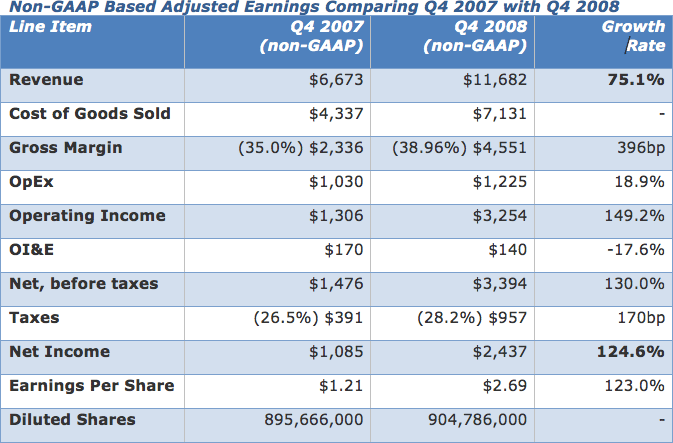 In its recently reported fiscal fourth quarter, Apple's adjusted net income grew approximately 124.6% from $1.085 billion in Q4 2007 to $2.437 billion in Q4 2008 — an extraordinary number when fully accounting for iPhone sales in both periods.
Just as impressive is Apple's 75.1% grow rate in sales. Apple's adjusted revenue grew from $6.673 billion in Q4 2007 to a whopping $11.682 billion in Q4 of 2008. Earnings per share grew 123.0% from $1.21 in Q4 2007 to $2.69 in Q4 2008. This begs the question? Where the hell are the analysts and why aren't they quick to point this out? Only on Wall Street can a company grow earnings 124.6%, sustain bouts of analyst downgrades and see its shares decline 55% (while boasting a 14 forward P/E on a GAAP-basis).
I was both shocked and very disappointed to see no analyst comment on the fact that Apple's business grew an astounding 124.6% on an adjusted (real) basis. What's even more troubling is that no one seems to emphasis the significance of the fact that Apple grew its cash hoard from approximately $21 billion in Q3 to $25 billion in Q4. That's a $5.00 increase in total cash per share from $23.45 in Q3 to $28.22 in Q4. At this pace, and assuming Apple makes no big acquisitions, Apple could very well have nearly $48 per share in cash and cash equivalents by the time we hit November 1, 2009.
The Obvious but Rarely Mentioned Problems with GAAP Accounting Measures
In many ways, the idea of GAAP accounting fails miserably at its intended purpose — to give a "fairly stated" picture (as my accounting professor would often say) of a company's earnings results. Yet, under GAAP accounting measures, Apple is forced to use what is called the subscription method of accounting for sales of the iPhone by amortizing the revenue received from the device over a 730-day period (2 years). When Apple reports its GAAP earnings results, it only accounts for an infinitesimal portion of the revenue it actually receives from sales of the device in any given quarter. This is particularly troubling for Apple and its investors due to the fact that Apple draws nearly 44% of its revenue and an unbelievable 63% of its net income from iPhone sales! What is more realistic and fairly stated: an accounting measure that requires a company to leave out 63% of its net income or an accounting measure that forces a company to be transparent by including what it has actually earned in the quarter?
This should infuriate the informed investor because it means that Apple is quite literally trading on P/E ratios that do not reflect more than half of its business. When one compares Apple to Google, Research in Motion, Amazon and others similarly situated in the tech sector, one should notice that they all have very similar P/E ratios. All of their P/Es have contracted significantly as a result of the markets overblown fears of the United States entering the second great depression. Yet, Apple's stock has obviously been the hardest hit in this contraction because if one accounts for the 63% in EPS that Apple isn't reporting as a result of GAAP accounting measures, Apple's trailing P/E is probably closer to 11 and its forward P/E is closer to 7 (under the conservative assumption that Apple will earn $12 in adjusted EPS in 2009).
Moreover, such an accounting measure opens the door for bearish news reporters such as Eric Savitz at Barrons to continuously publish bearish analyst opinions by the likes of Kathryn Huberty, Travis McCourt, Toni Sacconaghi and Mike Abramsky who only tend to focus on less than half of Apple's business. Yesterday, Abramsky cut both his earnings outlook and price target on Apple despite the fact that Apple beat his EPS estimate by $0.11. I have yet to see one analyst or even one news reporter mention the fact that Apple is trading at a mere 3.4 times its cash position — significantly lower than its counterparts: Google is trading at 7.8 times its cash, Microsoft is trading at 9.29 times its cash, Research in Motion at 17.8 times, Amazon at about 12 times, Cisco at about 4 times cash and IBM at about 11.5 times cash. Most of these companies have significant debt and thus net cash per share could be significantly lower.
This general sense of unjustified bearish surrounding Apple over the past 6 months is a directly result of GAAP accounting. If Apple were able to fully account for sales of the iPhone, almost no analyst would have any ammunition to justifiably downgrade the stock as they have over the past two months. While analysts were busy downgrading Apple in September, Apple was busy growing at 124%. Yet, due to the backwards accounting measures in place today, Apple could only boast a 23% growth rate in GAAP earnings. The table below compares Q4 2007 adjusted earnings to Q4 2008 adjusted earnings. Notice that Apple grew its operating income at a pace of 149.2%. This is a direct result of the revenue growth rate and gross margin percentage growth rate significantly outpacing the growth rate of operating expenses.
Method for Arriving at Non-GAAP based Adjusted Earnings for Q4 2007
Since Apple didn't start releasing adjusted earnings results until this past Tuesday, I had to reconstruct Apple's fiscal Q4 2007 to account for iPhone sales in order to be able to more accurately compare Q4 2008 with Q4 of 2007. The two most difficult adjustments to determine were gross margins and total revenue. Both of these numbers required a small degree of guess work and so I was conservative in the guessing. It's quite likely that Apple would have reported a lower adjusted earnings number in Q4 2007 which suggests a larger growth in 2008 than indicated in the table above. Yet, the revenue number can at least be stated with a relatively high degree of precision.
In order to account for the full revenue Apple received from sales of the iPhone and Apple TV, one must reverse the current period's amortization of deferred revenue derived from the devices. At the end of Q3 2007, total deferred revenue (current and non-current) derived from sales of the iPhone and Apple TV was $180 million. Total deferred revenue derived from sales of the iPhone and Apple TV at the end of Q4 2007 was $636 million. In order to reverse Q4 2007's amortization of deferred revenue derived from the devices, one need only subtract Q3's total deferred iPhone and Apple TV revenue from Q4 2008. The difference between these numbers is what Apple actually added to the quarter's deferred revenue pile and is what Apple would have reported in adjusted earnings.

Notice, to get a full and accurate picture of revenue, one would also have to subtract any contribution of the previous quarter's deferred revenue that Apple added in its Q4 2007 GAAP-based results. This number is both quite small, likely $23 million, and quite difficult to determine with full accuracy. Thus, for the sake of conservatism, I simply left in the contribution which makes the growth rate in 2008 slightly better than stated in the table above. The offset between deferred revenue at the end of Q3 and at the end of Q4 results in a $456 million adjustment to Non-GAAP revenue. Thus, Apple would have earned about $456 million more in fiscal Q4 if it didn't employ the subscription method of accounting or if it provided adjusted revenue.
Determining adjusted gross margins is a slightly subjective inquiry. Since there is no way to determine what the iPhone and Apple TV's gross margins were in fiscal Q4, and since we know they were better than overall gross margins, I bumped overall gross margin up 139 basis points. This more than adequately accounts for the better than overall gross margins enjoyed by the iPhone. Even if the gross margin percentage estimate is off by a 50 basis points, it would only account for a plus or minus one to two pennies in EPS. The 125% growth rate as stated above is a very realistic depiction of Apple's actual growth rate.
Operating Expenses & Operating Income
No adjustments are necessary for operating expenses as Apple fully recognizes any and all operating expenses when incurred without regard to any of its deferred revenue mechanism. If one takes a look at Apple's published adjusted earnings for Q4 2008, no adjustment is made to operating expenses in arriving at adjusted earnings. Since no adjustments needs to be made to operating expenses, operating income is simply the difference of subtracting operating expenses from gross margin.

No adjustments are necessary for OI&E as Apple fully recognizes any and all OI&E without regard to any of its deferred revenue mechanism. See Apple Q4 2008 adjusted earnings results for example.
No adjustments need to be made to the tax rate as a uniform rate is determined on a quarter by quarter basis. The effective tax rate in Q4 was approximately 26.5%. See Apple's Q4 2008 adjusted earnings for example.

As a result of the $181 million addition to net income based on the adjustments noted above, exactly $0.20 is added to EPS based on the published diluted share calculation of 895,666,000 shares. The table below is an unaudited reconciliation of Non-GAAP to GAAP results of operations for Apple's fiscal fourth quarter for the fiscal year ended in 2008.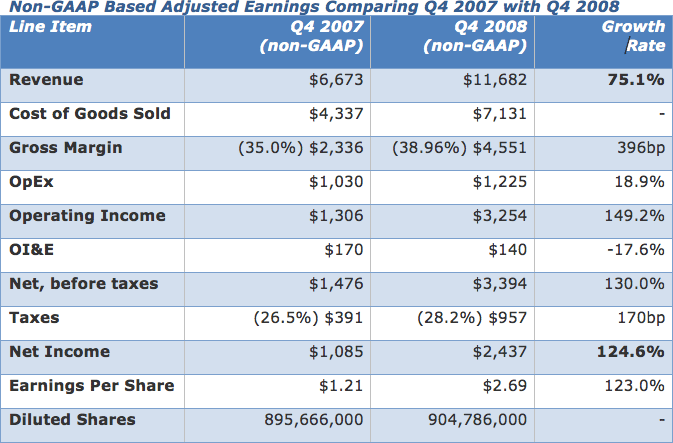 Disclosure: Long Apple. The information contained in this blog is not to be taken as either an investment or trading recommendation, and serious traders or investors should consult with their own professional financial advisors before acting on any thoughts expressed in this publication.