Orange France promo to cut iPhone 3G price to 99 euros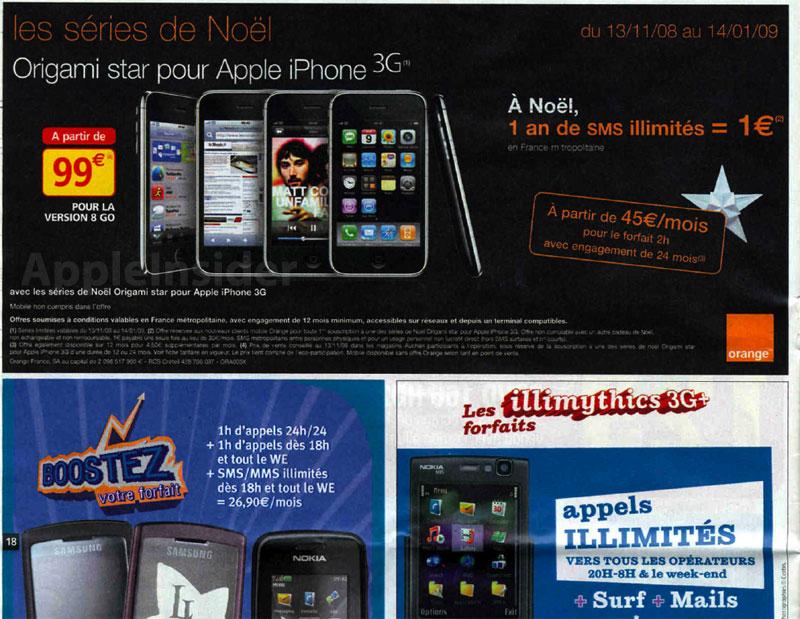 In an aggressive move to spur iPhone sales heading into the holidays, Orange appears to be on the verge of cutting prices for Apple's handset well below existing costs.
A dealer flyer sent AppleInsider shows the 8GB model's price dropping from 149 euros to 99 when bought with a service plan — the equivalent of just $126 US — though it's unclear from the flyer layout whether it requires a 45 euro, two-year contract for the discount to take effect.
What pricing affects the 16GB iPhone isn't mentioned in the document, though a separate report points to the 8GB cut and the 16GB edition's price dropping from 199 euros ($253) to just 129. That's the equivalent of $164, or less than the going rate for an 8GB model in most countries.
It also carries unusual timing. The promo, dubbed the "Christmas Origami star," lasts from November 13th — the end of an earlier promotional cycle for Orange — until January 14th, or well after Christmas.
Such promos harken a return to discount practices earlier this year, when multiple European carriers slashed prices on the original iPhone in a move to clear stock ahead of what was ultimately the launch of iPhone 3G in July. Price trimming helped trigger sudden sales rushes in Britain and Germany when the carriers dropped their official pricing.
Without other providers in other countries following suit at this time, though, it's hard to say that the price cut is part of any broader effort driven by Apple. Economic conditions are known to weigh heavily on most carriers as Nokia, Sony Ericsson and other carriers have warned of lower average phone sales prices as some buyers shift towards lower-cost devices.