Apple now No. 2 in corporate smartphone market share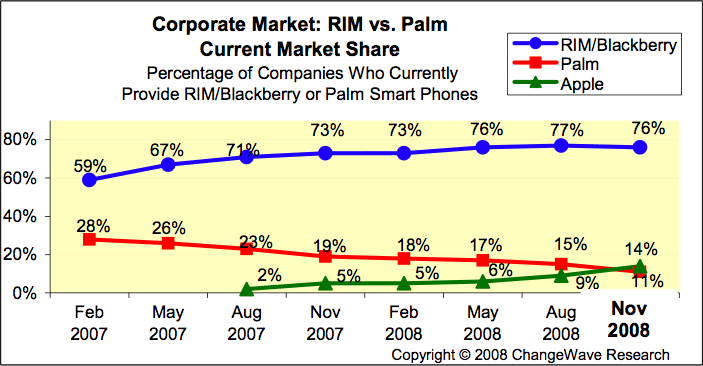 While Research in Motion continues to dominate the corporate smartphone market, new data shows Apple to be chipping awake at the BlackBerry maker's lead after having recently bludgeoned Palm to become the second leading supplier of advanced handsets to businesses.
A report from ChangeWave Research due for release shortly will show the iPhone to have recently gained 5 points in corporate market share, making it the second most popular business phone with a 14 percent share.
The gains came largely at the expense of Palm, who dropped 4 points while falling into third place overall with an 11 percent share. However, Apple was also able to grab a share point away from larger rival RIM, whose commanding lead now equates to a 76 percent share of the market.
Word of Apple's breakthrough arrives amid troubling data from corporate IT purchasing surveys which shows "a collapse in US business spending of historic proportions." Looking ahead to the first quarter of 2009, spending projections are the worst ever seen by ChangWave in its studies that date back to 2001, with an unprecedented 45 percent of respondents saying their company's IT budget will decrease or completely collapse.
One positive note that came out of the surveys was that a total of 35 percent of IT companies plan to buy smart phones next quarter, a 1 percent increase from back in August. Again, RIM dominates forward looking spending with a78 percent share, down just 1 percent point. However, planned spending on iPhones showed the strongest momentum, rising 5 points to a 22 percent share.
Of interest is that RIM's corporate share is heavily concentrated among larger companies with more than 1,000 employees, while three quarters of Apple's share is among small- to medium-sized companies with under 1,000 employees.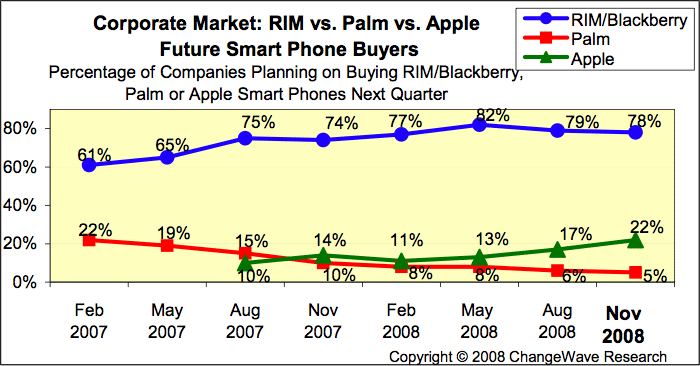 "In a further confirmation that the 3G iPhone is having a positive impact on Apple's corporate business, nearly one-in-five respondents (18%) report the release of the 3G version has made their company More Likely to purchase Apple products in the future," ChangWave says in its report.