Apple to replace 17-inch MacBook Pro batteries in stores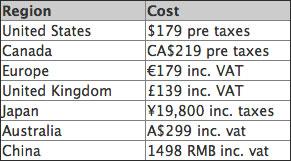 Apple this week served up the details of its battery replacement program for the new 17-inch MacBook Pro, which offers customers the option of having a new battery installed at their nearest Apple retail store.
The top-of-the-line Apple notebook will ship later this month with a new built-in battery which the company says is capable of delivering up to eight hours of use and up to 1,000 recharges for more than three times the lifespan of traditional notebook batteries.
The design of the 95 watt-hour lithium polymer part is also more compact than conventional batteries due to Apple's proprietary manufacturing process, helping to make the new 17-inch MacBook Pro the thinnest and lightest in its class.
One tradeoff is that new 17-incher doesn't provide the same easy access panel for battery replacements as its 13- and 15-inch cousins. Instead, Apple plans to offer a $179 battery replacement program that includes installation of the new battery and environmentally responsible disposal of the depleted battery. (Prices for other regions can be seen in the chart, below).
According to the Mac maker, the length of time to complete the battery replacement will depend upon the repair location and availability of service stock. Generally speaking, customers who use the Apple mail-in service will receive their MacBook Pro back with a new battery within 3 to 4 business days after the notebook ships out to its repair depots.
Unlike battery replacements for the iPhone, however, Apple has also announced that customers can have a new battery installed in their 17-inch MacBook Pro at their local Apple retail store with a Genius Bar appointment. MacBook Pros serviced at Apple stores will be returned the same day. Several Apple Authorized Service Provider (AASP) may also offer the in-store service. Customers interested in this approach should contact their local AASP for turnaround times.
Apple warrants both the battery that ships with the MacBook Pro and the its battery replacements against manufacturing defects for one year from the date of purchase.