Four third-party Web browsers appear on Apple's App Store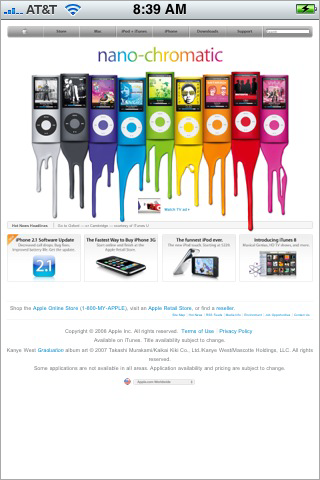 AppleInsider may earn an affiliate commission on purchases made through links on our site.
After denying entry of rival web browsers into its App Store for quite some time, Apple appears to have had a change of heart this week with the approval of four third-party browsers, each of which are now available for download.
The move is surprising given that the iPhone maker has shown resistance in the past to accepting new applications to its digital software store that replicate any of the core functionalities of its handheld products, such as their built-in Safari web browser or ability to download podcasts over the air.
In each case, the four accepted browsers — Edge Browser, Webmate, Incognito, and Shaking Web — are based on Apple's Webkit framework, the same set of libraries that make up the foundation of the company's Safari and mobile Safari browsers.
Firefox and Opera, two other third-party browsers that rely on their own rendering engines and frameworks, have unsurprisingly failed to gain App Store acceptance. The terms of Apple's iPhone SDK, the development kit that allows developers to author apps for the iPhone and iPod touch, specifically forbids applications that call on non-Apple frameworks and languages.
A preview of the four new browsers follows:
Edge Browser (Free, App Store) bills itself as a Safari web browser that does not sacrifice screen real estate to to address or navigational bars. To enter a URL, however, you must navigate to the iPhone's settings dialog. As such, the app has been met with poor reviews.
Webmate ($0.99, App Store) prides itself on delivering a more natural tabbed browsing experience than the iPhone's built in Safari web browser. As any iPhone user can attest, tabbed browsing in Safari is a time consuming experience given that each time you bring a tab into view, the contents of the tab must reload.
Designed specifically for readers of news sites, Webmate mitigates this problem by queuing up the contents of each link you click on into a new tab that loads in the background. You can then cycle through those tabs at any point without having to wait for their contents to reload.
Incognito ($1.99, App Store) is an anonymous web browser for the iPhone and iPod touch that lets you browse the web without leaving a history of any kind. When you close the browser, Incognito will erase the entire session. This way, you won't have to clear Safari's history just to hide a single entry, which renders the URL auto-completion useless.
The browser includes full, anonymous support for linked media files, including all videos and sound files played by mobile Safari, as well as an orientation lock mode and a customizable homepage.
Shaking Web ($1.99, App Store) was conceived with the idea of making it easy to read webpages when you're moving, such as commuting by bus, train or car. When your hands move due to general body movement, the app senses the movement and applies a slight but opposite movement to the content area, with the goal of keeping the reading "where your eyes are."
The app currently features two modes: Turbo Off, which applies force only on vertical movements, and Turbo On, which applies force on both vertical and horizontal movements. The browser allows only one web page to be viewed at a time and does not support pop-up windows.