Survey highlights iPhone impact among mobiles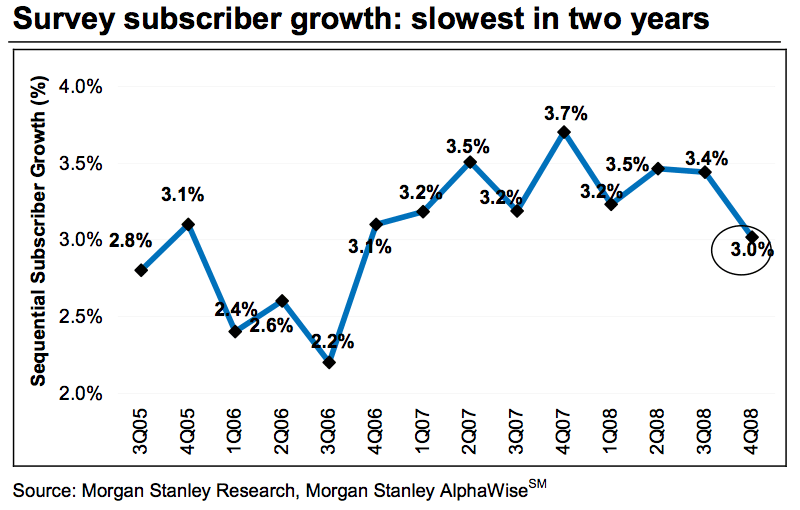 AppleInsider is supported by its audience and may earn commission as an Amazon Associate and affiliate partner on qualifying purchases. These affiliate partnerships do not influence our editorial content.
A new US survey reveals a general decline in mobile phone growth, a mass exodus from Sprint to other carriers, a significant but relaxing demand for the iPhone, a failure of the Android G1 to have much impact for T-Mobile, but continued strength in the smartphone segment.
The Morgan Stanley-conducted survey of 15,000 American consumers asked them about their current wireless provider, which handset they now own, and what provider they had switched from over the previous year. The interview only considered users' primary phones and was limited to heads of households, excluding both secondary phones and the teen market. It was conducted in December.
The survey found that sequential subscriber growth was down to 3%, the slowest in two years, with fewer upgrades and fewer new additions, but also fewer disconnects than the year-ago quarter.
Phone handset sales declined 5.4% over the previous quarter and 7.6% over the the previous year, which Morgan Stanley reported was "the first time we've seen a Q/Q decline in 4Q in the three years we've conducted the survey."
iPhone market disturbance
Many of the survey's findings seemed to be related to the debut of the iPhone, which initially hit the US market in the summer of 2007 and then returned for a second strike in mid 2008. After satiating the initial demand, US sales of the iPhone 3G have fallen quarter over quarter, but are still up over last year.
The iPhone 3G pressed Verizon in the third quarter, but that disturbance has subsided in the fourth quarter as the market returned to relative normally. That reprieve helped give Verizon the highest quarter over quarter growth rate (5.5%) in the industry in the fourth quarter. Morgan Stanley also credited that increase to the arrival of the BlackBerry Storm, which blew in just as iPhone 3G sales settled down.
In contrast, AT&T saw lower growth (1.5%) than last year, albeit still maintaining a positive flow of new customers versus departing ones. The survey estimated 1.75 million iPhone 3G units were sold by AT&T in the fourth quarter of 2008, versus 2.3 million in the quarter ending in September (out of worldwide sales of 6.9 million iPhones).Â
The big loser was Sprint, which actually lost net subscribers (-.02%) due in part to a lack of competitive handset offerings. It was the only provider in the top four to face actual subscriber erosion.Â
Handset demand by carriers
The survey also found that equipment upgrades (with users retaining the same carrier) accounted for 57% of handset demand, while 43% were gross adds (new phone users or recent switchers from other carriers). Smartphones made up 39% of all upgrades for the quarter.Â
Together, those findings explain why phone providers are clamoring for high end, exclusive phones: retaining and attracting new customers requires having attractive phones, and smartphones are making up a large and an increasing piece of the pie of all phones sold.Â
Recent exclusive introductions in 2008 include the iPhone 3G for AT&T, the BlackBerry Storm for Verizon, and the G1 for TMobile. Each new introduction creates peak sales for their provider in both subscriber upgrades and new subscriber additions.
In this fourth quarter survey, the demand for the iPhone 3G was shown tapering off from 14% of all US smartphone upgrades to 9%, quarter over quarter, and 16% of gross additions, down from 20% last quarter. The new Storm was credited with an upgrade surge among RIM smartphones to 20% from 16% in the previous quarter, but that did not translate into new subscribers for Verizon, as RIM smartphones declined from 17% to 14% in gross adds.Â
The Google G1 similarly did very little for TMobile, as its gross ads amounted to 0.1%, although it did snare 3% of smartphone upgrades. LG lead with 23% of smartphone gross adds and 29% of smartphone upgrades.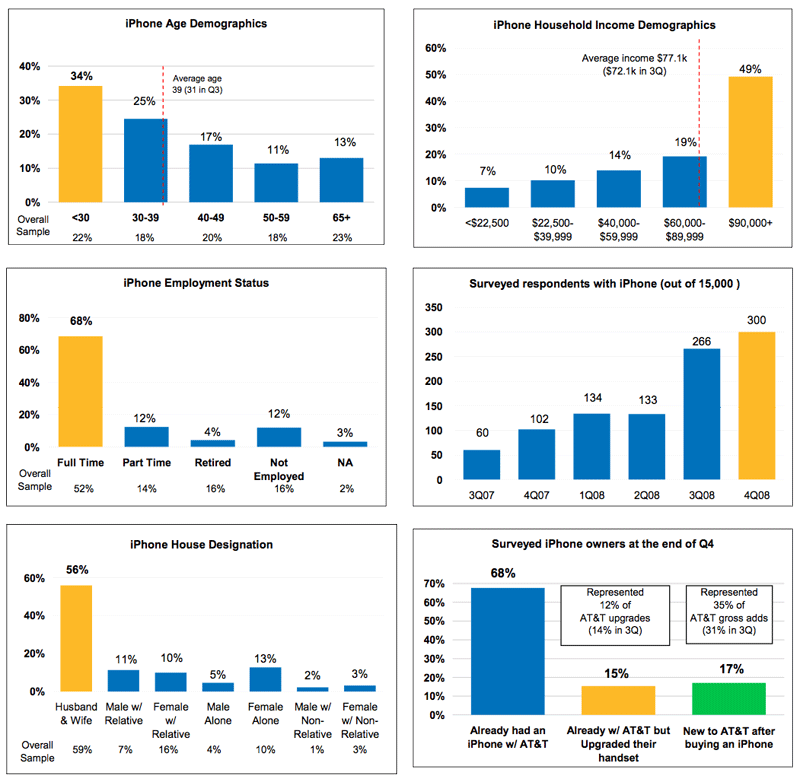 Unlike most phones from other manufacturers, Apple's iPhone is only available from AT&T in the US. Morgan Stanley reports that the smartphone accounted for 12% of all AT&T upgrades and 35% of gross adds for AT&T in the fourth quarter, up from 31% in the third quarter.Â
Of AT&T's entire subscriber base, 24% are smartphones. The iPhone is its most popular smartphone with 30% of that segment, followed by BlackBerry with 23%, Samsung at 14%, and LG with 9%.
Among all iPhone owners surveyed, 68% had an iPhone for more than three months, 15% were AT&T customers who upgrade to the iPhone in the last three months, and 17% were new to AT&T after buying an iPhone in the past three months.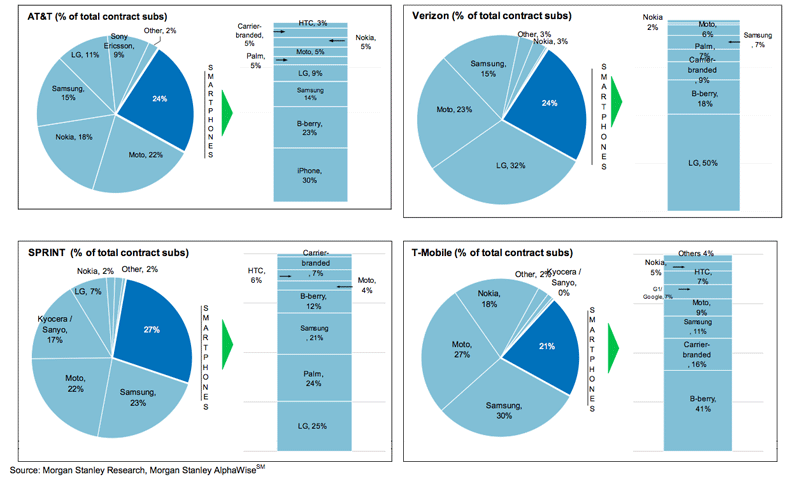 Smartphones at Verizon, Sprint, and T-Mobile
Of Verizon's entire subscriber base, 24% are smartphones. Half of those are made by LG, 18% are BlackBerry, and 9% are carrier branded by Verizon.
Slightly more of Sprint's entire subscriber base are smartphones, at 27%. Of those, 25% are from LG, 24% are Palm, 21% are Samsung, and 12% are BlackBerry.
At T-Mobile, just 21% of its entire subscriber base are smartphones. Fully 41% are BlackBerry, 16% are carrier branded, 11% are Samsung, 9% are Motorola, and 7% are the Google G1.Â
Again, these survey numbers only look at the primary cell phone of heads of households, excluding any secondary devices users may own. According to survey respondents, Verizon appears to lead with 27.9% calling it their primary provider; the 26.6% citing AT&T, 11.7% for Sprint, and 8.5% for T-mobile added up to 75% of all US subscribers within the top four providers. Morgan Stanley reported that AT&T remains the largest US handset customer according to its other research, although this survey indicated Verizon was ahead.