BlackBerry Storm found pricier to build than Apple's iPhone 3G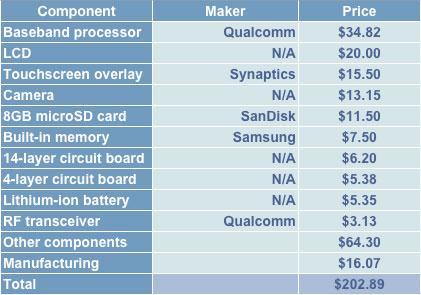 An insistence on a physical feedback screen and dual-network support has pushed the cost of making Research in Motion's BlackBerry Storm significantly above that of current-generation iPhones, hinting that Verizon may be paying more to rival AT&T in touchscreen phones.
Research house iSuppli has conducted a teardown which puts the price of assembling RIM's first touchscreen BlackBerry at $202.89, not including marketing, shipping and other costs involved in getting the phone to customers.
The expenses result in a phone that, in some circumstances, actually costs more for its American carrier Verizon to sell than it does to produce. While the normal retail price is just short of $250, the online pricing puts the phone at $200.
As such, the phone may cost more to subsidize than its most direct challenger at AT&T, Apple's iPhone 3G. A teardown conducted by iSuppli in July revealed that the iPhone cost a more modest $174.33 just days after its launch — a figure that may have decreased over recent months as each individual part gets less expensive to build, and $28.56 less than the BlackBerry.
That difference is explained by RIM's decisions to include certain significantly more components, iSuppli says. Since Verizon wanted the BlackBerry to support both its own CDMA and EVDO networks as well as the GSM and HSDPA of its European partner Vodafone, RIM has had to include a Qualcomm processor that costs $34.82 by itself, or about 17.2 percent of the pure manufacturing price. Apple's phone needs only to connect to GSM and HSDPA and can use less expensive equipment to match.
In trying to address complaints that touchscreens lack physical feedback during button presses, RIM has also given the Storm a click-down screen that touches a button below. This requires a special capacitive touchscreen overlay from Synaptics that adds $15.50 to the phone's bottom line.
iSuppli bill of materials for the BlackBerry Storm.
And while the features add to the price, the cost difference doesn't equate to a one-for-one improvement. The BlackBerry's screen doesn't support the complex multi-touch of the iPhone and is actively limited by the need to push downwards to register most actions, where Apple's touch-only input is quicker and more complex.
"The Storm uses a simple physical button under the primary touch screen to serve to provide haptic feedback," iSuppli senior analyst Tina Teng says. "This allows one physical key press at a time, meaning there is no double-tapping capability with the Storm."
Wi-Fi is also absent from the smartphone.
Whether or not the pricier hardware dents the profits of Verizon as much as it does AT&T is still a matter of debate. Given the flexibility of carrier discounts, Verizon isn't automatically forced to pay more to put the BlackBerry Storm's price tag close enough to the iPhone to remain competitive.