File sharing finally comes to MobileMe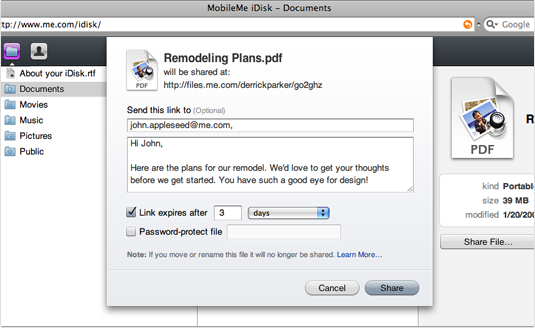 AppleInsider may earn an affiliate commission on purchases made through links on our site.
A file-sharing feature promised last July has finally arrived for users of Apple's MobileMe, capping a months-long delay that stemmed from the online service's rocky launch.
"We're pleased to announce that you can now use your MobileMe iDisk to share files with others simply and easily," reads a post on the MobileMe News website. "Instead of attaching a large document to an email and hoping it's not too big to be received, you can place the file in your iDisk and use the new Share File command in the iDisk web app."
Apple has provided a video tutorial to help users familiarize themselves with the new feature. Any file stored on iDisk can be shared (meaning it must be uploaded first) by clicking a "Share File..." button. Users can set an expiration date for each shared file and set a password for protection.
The new feature offers MobileMe users an alternative to free and fee-based online services like YouSendIt, Sendspace, Rapidshare, MegaUpload, and others.
Users should note that this capability cannot be found when accessing iDisk through the Finder, so one must first visit the Me.com site and log in. Although MobileMe users already have access to a Public iDisk folder, the new feature works on any file placed inside an iDisk while adding capability to email recipients and set the aforementioned download expiration option.
Users can set expiration dates and password protection for shared files.
Last July, Apple sent an email to MobileMe subscribers acknowledging that iDisk File Sharing had been pulled at the eleventh hour ahead of the launch and apologized for the inconvenience. From then on, the MobileMe website said, "Soon, a new feature in iDisk will make it simple to share files too big for email."
Steve Jobs expressed regret and embarrassment with the mishandled launch of MobileMe, calling it "not up to Apple's standards". He then put Eddy Cue, formerly vice president of iTunes, in charge of bringing the service up to the Cupertino-based company's standard.
In an effort to make up for its early mistakes, Apple granted a free 30-day and later a 60-day extension to MobileMe subscribers. Since then, the company has steadily rolled out a series of improvements to the service.
AppleInsider's Series: Inside MobileMe