ARM shows possibly iPhone-bound multicore mobile processor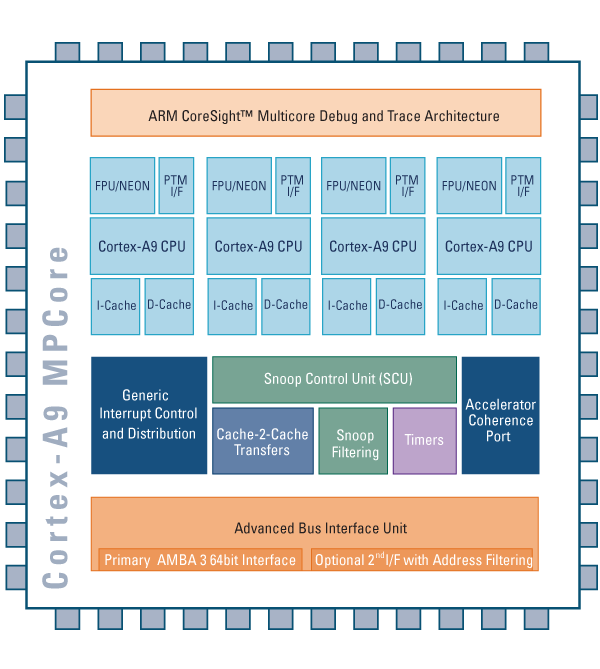 ARM is demonstrating the first working example of a multicore processor that may dramatically speed up smartphones. Meanwhile, Apple is looking for iPhone engineers that can write multithreaded code that may take advantage of ARM's breakthrough.
Limiting press exposure to a private event, the chip designer along with ST-Ericsson is running a chip based on its Cortex-A9 architecture on a Symbian-based test device at this week's Mobile World Congress in Barcelona.
The design uses between two and four cores and is a successor to the ARM11 technology that dominates the market, including the Samsung chip in all current iPhone and iPod touch models. Just as on a desktop, apps can split their work across multiple processors; ARM touts it as potentially much faster than a single-core processor, but says it could ultimately use less power by completing the same work with two cores at half the clock speed or by finishing other tasks sooner.
Aside from its edge in parallel tasks, the Cortex-A9 platform also has twice as much floating point math power as previous designs. Moreover, it gives each core a NEON media accelerator that performs some of the functions that would normally be reserved for a digital signal processor, such as media encoding or decoding. ARM bases these on Simple Instruction, Multiple Data (SIMD) instructions like those found on most modern full-size processors.
A diagram of ARM's Cortex-A9 processor with its maximum four cores.
Both ARM and ST-Ericsson are quiet on how much progress the functioning chip represents. Officially, neither expects widespread use until the end of 2009 at the earliest opportunity. However, the public debut is an important step forward for the company, which counts most major embedded processor creators as licensees that in turn build the processors themselves.
And while the exact usage if any of Cortex-A9 in a future iPhone is equally a mystery, the test has a potentially deep impact on Apple's own plans. The Cupertino, Calif.-based firm is widely accepted as being a new but long-term client of ARM's and, as such, has easy access to the new architecture as well as its own eventual replacements.
Apple's recent acquisition, PA Semiconductor, is known to be developing a custom ARM chip specifically for iPhones.
Whether or not Cortex-A9 is used to any degree, a spate of recent Apple job postings hint that the iPhone maker is at least pinning its hopes on mobile multicore processing, even if it opts for its own designs. Listings show the company recruiting engineers for iPhone applications, media interfaces and photo utilities, and all ask that successful candidates ideally have experience writing multithreaded code — the software ingredient necessary for exploiting the presence of two or more processor cores.