Mac OS X 10.5.7 may have Nehalem, Radeon HD 4000 support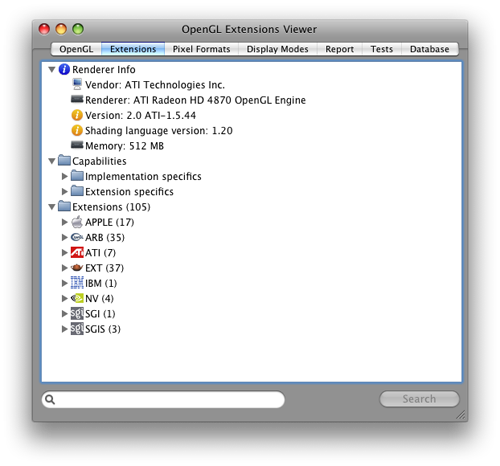 In addition to expected fixes, Apple's upcoming 10.5.7 update to Mac OS X Leopard is now claimed to recognize Intel's newer Nehalem architecture as well as AMD's ATI Radeon HD 4000 graphics chipsets.
The reported discovery by netkas has produced just five kernel extensions for the video cards and doesn't appear to work perfectly in a bootleg installation for 10.5.6 meant for hacked Mac OS X installations. The retrofitted version doesn't recognize DVI ports fully and doesn't even recognize widescreen resolutions without third-party utilities to force the expanded screen area.
However, the extensions are enough to not only identify the mid-range Radeon HD 4850 and high-end 4870 chipsets by name but to enable Core Image and Quartz Extreme acceleration of the Mac OS X interface, which would require the direct involvement of AMD, Apple or both firms to work. They also support the full OpenGL 2.1 specification for 3D graphics.
And while screen captures aren't available to support the claims as with the video hardware, the slip also hints that 10.5.7 is the first edition of Mac OS X to recognize Intel's Nehalem architecture.
The structure is a major overhaul of Intel's approach to processors and abandons the conventional system bus in favor of an interface that lets the processors talk directly to memory, peripherals and each other.
While it's not known when or even if Apple will definitively expose the new hardware support in the formal release of 10.5.7, such add-ons will eventually be necessary. It's commonly thought that Apple will use Nehalem-based Xeon processors at the heart of its next Mac Pro workstations and will eventually filter the technology down to its portables and mainstream desktops through Core i7 processors, which share the same essential design.
Apple has also remained comparatively dormant in its support for AMD's ATI Radeon graphics and hasn't used hardware newer than the Radeon HD 2600 found in the iMac and as an option for the Mac Pro; the technology is now approximately two generations old.
In either case, new hardware entries if corroborated would put greater significance into 10.5.7 than was initially spotted with the initial discovery by those aware of the update, which at first signaled primarily a maintenance release.