Apple issues key software update for Time Capsule, AirPort Extreme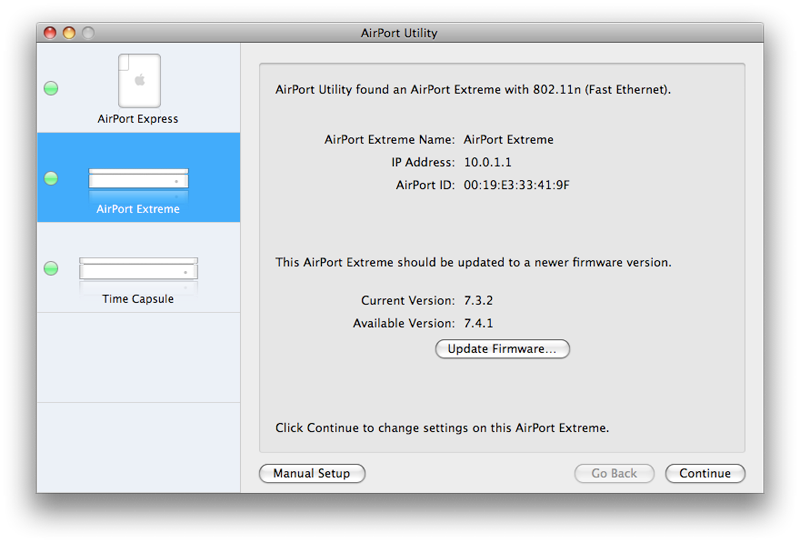 Late Thursday evening, Apple released firmware updates for the 2009 Time Capsule and AirPort Extreme that resolves issues on the new devices. A parallel update also adds Back to My Mac drive sharing support to the prior generation of the wireless base stations.
The updates for both the new and previous Time Capsule and AirPort Base Station (802.11n) are all designated as firmware 7.4.1. The newest revision that had been available to previous models was 7.3.2, and the new 2009 models shipped with 7.4
The updates can be applied using AirPort Utility, typically located in the Applications/Utilities directory on systems running Mac OS X, but only after downloading the AirPort Utility 5.4.1 released this past Tuesday.
A support article on Apple's site details the changes delivered by the firmware 7.4.1 update: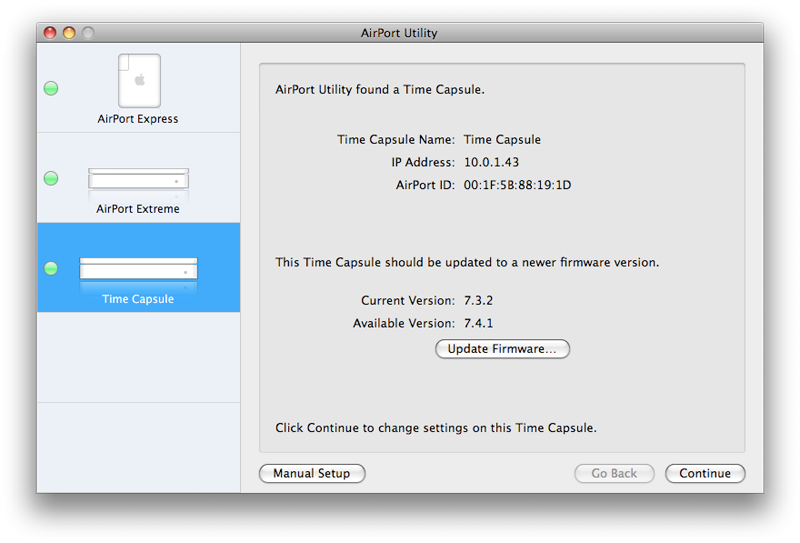 For AirPort Extreme (Early 2009) and Time Capsule (Early 2009) that ship with firmware 7.4, the firmware 7.4.1 update:
Resolves an issue in which a client computer may be disconnected when waking from sleep
Addresses an issue in which redirecting SMTP port services may disable IP-layer networking
Improves the reliability of Back to My Mac-based disk sharing
Includes recent AirPort security updates
For AirPort Extreme with 802.11n (Fast Ethernet), AirPort Extreme with 802.11n (Gigabit Ethernet), AirPort Express with 802.11n, and original Time Capsule models, the firmware 7.4.1 update:
Enables remote administration and remote access to compatible USB connected drives via Back to My Mac (except on AirPort Express)
Improves reliability when backing up to a Time Capsule via Time Machine
Includes recent AirPort security updates
Once applied, the update adds a MobileMe tap in the Advanced section of the AirPort's configuration (pictured below). After entering an account and password, the base station will need to be restarted.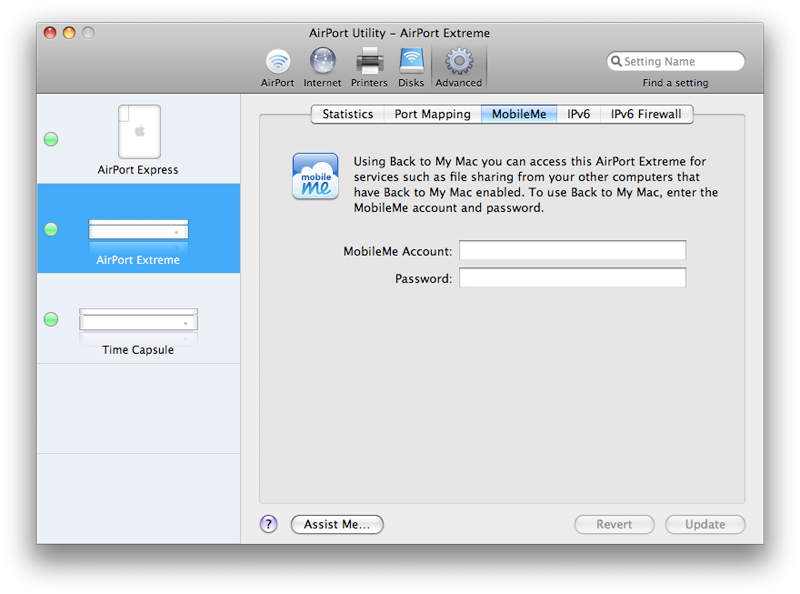 Also included in the update are a trio of security updates outlined here, mostly pertaining to enhancements to the base station's IPv6 stack.
As was noted by AppleInsider in a previous article, the 7.4.1 firmware update adds the ability to access drives attached to 802.11n AirPort Extremes and Time Capsules over MobileMe, but does not deliver the guest networking and simultanious dual-band features of the just-released models because those features require hardware support.