iTunes 8.2 beta hints at support for Gracenote's video platform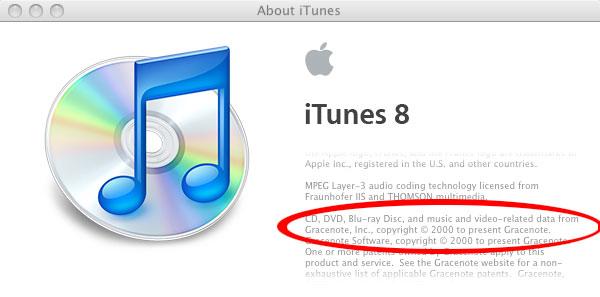 AppleInsider may earn an affiliate commission on purchases made through links on our site.
Apple on Tuesday equipped iPhone developers with a beta of iTunes 8.2 that appears to add full support for Gracenote's video platform, which includes components for organizing, searching and managing both DVD and Blu-ray optical discs.
Hints to this end were noticed in the credits roll of the new jukebox software by both a MacRumors forum member and AppleInsider reader David. The specific reference reads, "CD, DVD, Blu-ray Disc, and music and video-related data from Gracenote."
The current version of iTunes includes similar credits but without mention of DVD and Blu-ray, leading to speculation that iTunes 8.2 will ship with software support for recognizing and reading Blu-ray discs.
Once called Compact Disc Data Base (or CDDB), Gracenote is a firm that maintains and licenses the largest Internet-accessible database containing information about the contents of audio discs and digital music files. Applications like iTunes tap into the CDDB database to easily provide users with album names, song titles, and other information about their audio CDs, which don't contain such descriptive information by default.
"iTunes connects to this database to look up information about the CDs you own so you can easily select which songs to listen to and sort and view your music library," Apple explains in a support document on its website dated August 2004.
A little over a year ago, Gracenote introduced a similar database for digital video called the "Gracenote Video Platform." It contains five key components, one of which is the VideoID-DVD for "identification, search and organization of physical DVD, HD-DVD, and Blu-Ray disc collections." Similar to the firm's CDDB database, it provides metadata, cover art, synopsis, cast/credits, and detailed product information for identified video discs.
It therefore appears that iTunes 8.2 will support Gracenote's video platform in some capacity. Still, it should be noted that Apple may be adding support for the platform primarily to help users manage their conventional DVD collection, with the reference to Blu-ray slipping in as a matter of standard legalese.
Despite persistent rumors, Blu-ray support has yet to find its way to the Mac in any capacity due to complicated licensing issues that Apple has seen no interest in tackling given that the format remains in its infancy and has yet to show signs of mainstream adoption, according to comments from Apple chief executive Steve Jobs.
"Blu-ray is a bag of hurt. I don't mean from the consumer point of view," he said at a media event last October. "It's great to watch movies, but the licensing is so complex. We're waiting until things settle down, and waiting until Blu-ray takes off before we burden our customers with the cost of licensing."
Though it's uncommon for Apple to distribute pre-release betas of iTunes broadly, it did so Tuesday alongside the release of the fourth beta of iPhone Software 3.0, which requires the new version of the media cataloging software.
"This is a pre-release version of iTunes 8.2," the company told developers. "You must download and install iTunes 8.2 pre-release in order to activate iPhone OS 3.0 beta 4 on your iPhone or iPod touch."