Apple requires iPhone OS 3.0 support for all new mobile apps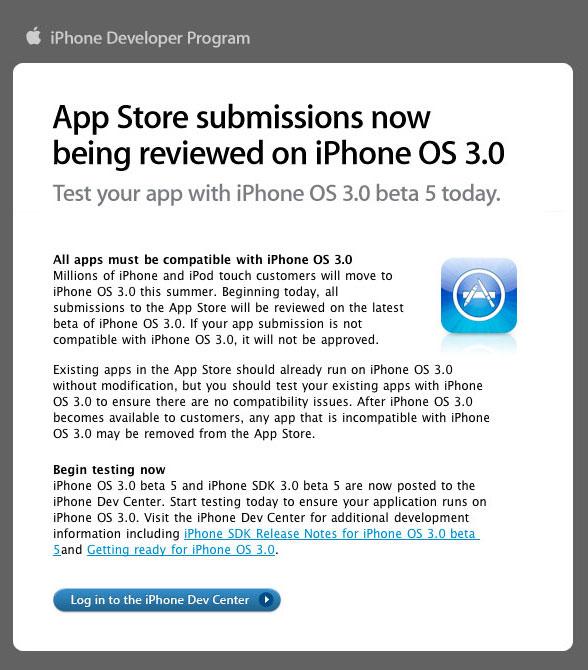 Starting Thursday, iPhone app developers will have no choice but to test against iPhone OS 3.0 if they want to guarantee their places in the App Store, and have been warned their existing apps may be pulled if support breaks.
The release of iPhone OS 3.0 beta 5 has been accompanied by an e-mail notice to all registered developers that their code "must be compatible" with 3.0 from here on out if they expect the software to be published. While Apple believes many current apps will run without a hitch, it cautions bluntly that programmers shouldn't assume apps built for 2.x will carry over smoothly.
"If your app submission is not compatible with iPhone OS 3.0, it will not be approved," the message reads. "After iPhone OS 3.0 becomes available to customers, any app that is incompatible with iPhone OS 3.0 may be removed from the App Store."
Apple doesn't indicate whether submissions will have to be complied using the 3.0 version of the iPhone software developer kit or if it only requires that apps be tested using a 3.0 emulator or device.
The requirement illustrates, for the first time, Apple's approach to major mobile OS updates for third-party developers. At its iPhone OS 3.0 preview event, Apple had said it would greatly expand the number of APIs for developers to use but didn't say how well it expected 2.0 apps to carry over with all the changes made to the platform; the new update indicates that Apple intends to maintain compatibility but that it also expects everyone to be on the same footing by the time the public can upgrade to 3.0. Apple portrays it less as a request of its own and more as a reality of the market, where many will apply the update as quickly as possible and expect their current apps to run.
"Millions of iPhone and iPod touch customers will move to iPhone OS 3.0 this summer," the company reminds developers.