Japan's Asahi Kasei to supply magnetometer for next-gen iPhone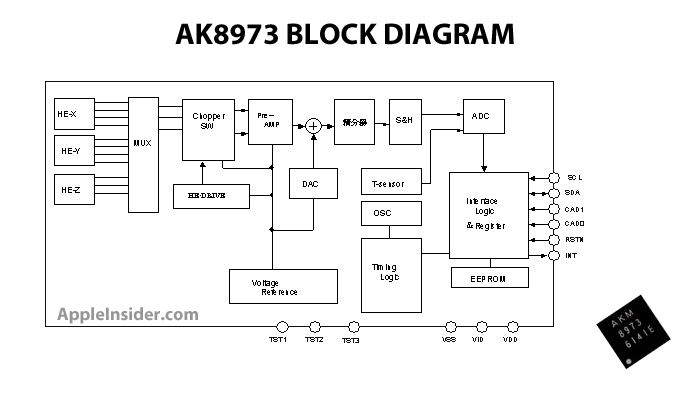 Apple will tap Japan's Asahi Kasei to provide hardware support for the "magnetometer" — or digital compass — that's slated to make its debut in the company's next-generation iPhone handset, AppleInsider has learned.
People familiar with betas of the iPhone 3.0 software developers kit recently dug up several header files attributed to the Japanese manufacturer in a directory appropriately labeled "compass." More specifically, the files identify Asahi Kasei's azimuth sensor No. AK8973, a 16-pin leadless IC package measuring 4mm square and 0.7mm thick, as the chip that will help future iPhone users determine their direction. It bundles a master clock oscillator.
Asahi Kasei specializes in chemical and material sciences in a number of fields including electronics, and is known to have been one of Apple's component suppliers for the iPod touch dating back to the first-generation model. It's unclear exactly what parts the company supplies for the handheld, though liquid submersion indicators (LSIs) are one of its specialties.
Over the past couple of years, Apple has inserted LSIs across most of its portable products in an effort to help its technicians determine whether customers reporting faulty hardware are actually responsible for the damage themselves by allowing liquids to penetrate their devices, something that's not covered under the Cupertino-based company's standard warranties.
A diagram and enlarged photo of the azimuth sensor taken from Asahi Kasei's website can be seen below, and header files included with betas of the latest iPhone SDK suggest the part may be nearly two years old. They're dated July 19th, 2007, just days after Apple brought its first-ever iPhone to market.
The addition of a magnetometer to the iPhone is expected to open the door to some exciting new functionalities, a handful of which have already made their way to T-Mobile's Andriod-based G1 handset, which has long shipped with a digital compass. For instance, users may be able to simply point their next-generation iPhones at an object or landmark and have an application combine GPS, accelerometer, and compass information to pinpoint what that object or landmark is. Gaming applications that interact with a user's surrounding real-time environment would be another possibility.
With the current generation of iPhone hardware, applications can locate the user (GPS) and determine the tilt of the phone (tilt sensor) but not the direction the phone faces (compass). An example of the problem this presents is that a user could turn in place holding the phone in the same orientation and the phone would not register a difference.
A magnetometer is just one of three new hardware advances confirmed through multiple discoveries to be making its way to Apple's next-gen handsets, with a video-capable camera and 802.11n low-power mode — both of which were first reported by AppleInsider — being the others.