iPhone luring more customers to AT&T than ever - report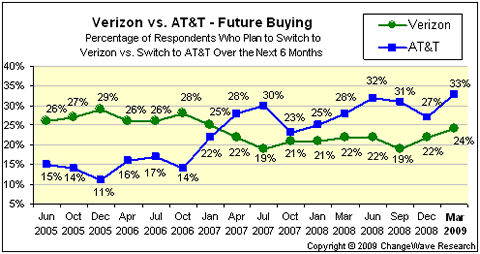 Long considered a lure for carriers, Apple's iPhone is now believed to be attracting a full third of those switching providers towards AT&T — the highest ever percentage of converts since the iPhone was released.
Of the 13 percent of ChangeWave's panel looking to leave existing cellular providers within the next half year, 33 percent say they will move to AT&T when the time comes versus 24 percent headed towards Verizon.
The figure is a record for AT&T and is even higher than spikes seen in July 2007 and June 2008, both falling roughly in line with Apple's launch plans for new iPhones in each circumstance. Verizon's tally itself was a modest 2-point increase, but the carrier hasn't once passed AT&T in demand since the original iPhone was unveiled in early 2007.
Researchers also observe that AT&T customers are less likely to defect, as 9 percent are strongly considering jumping ship while 11 percent of Verizon customers are less than happy with their experience.
The same can't be said for the actual quality of service, however. Even as exactly half of respondents using Verizon were "very satisfied" with their service, AT&T could only boast 31 percent and is in a dead heat with Sprint and T-Mobile.
Verizon's network was perceived to be more reliable, too, as just 1.8 percent of its subscribers reported dropped calls while 3.3 percent reported the same with AT&T.
As such, the results create an unusual tension for AT&T where it regularly attracts customers but has a harder time pleasing them once they've signed aboard. It isn't as much of a dilemma with the iPhone as an exclusive, the analysts say, but the difference in quality could hurt AT&T's lead if it no longer has sole rights.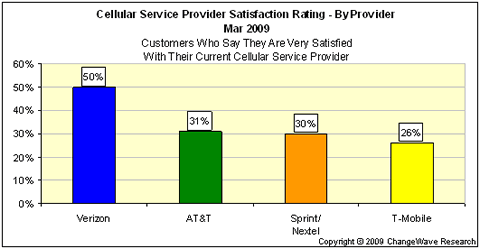 And while AT&T is rumored to be negotiating an extension of its iPhone exclusive until 2011, ChangeWave notes countering reports of Verizon possibly landing phone-like devices of its own, any of which could give AT&T "plenty to worry about" in the marketplace. Either way, AT&T and Verizon aren't viewed as the real victors.
"There's one clear winner here no matter which way the Apple falls from the tree — it's the Apple," the report maintains.