2009 iPhone models surface in Dutch T-Mobile systems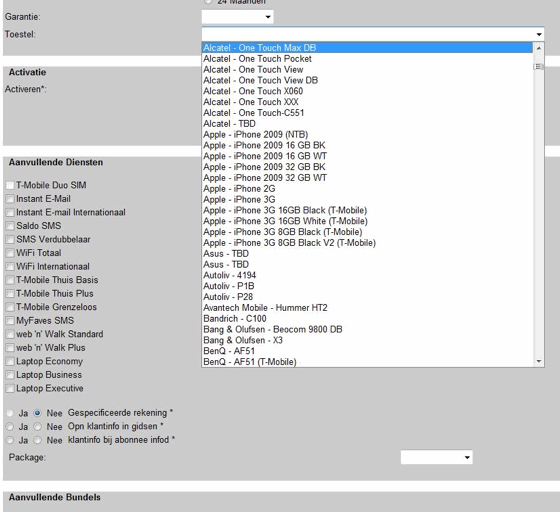 Seemingly confirming Apple's basic iPhone product strategy for next week, T-Mobile Netherlands' phone catalog is showing 16GB and 32GB iPhones for 2009 as well as a possible 8GB model.
A pair of tips show an entry known as "iPhone 2009" in both black and white for the two identified capacities, hinting that Apple will no longer reserve a second color option for its best model.
Obtained by iPhoneClub, the images also curiously show two different entries for iPhones that are difficult to identify. One simply lists as "iPhone 2009 (NTB)" while another is "iPhone 3G 8GB Black V2." The former may just be a placeholder, but the second is less clear; the potential exists for it either to be a continuance of the iPhone 3G as-is after the new launch or else simply a minor, mid-cycle iPhone update that already exists in stores.
The 32GB instance has all been assumed to be in development due to the nature of flash memory technology but, if borne out by Apple's WWDC keynote on Monday, would represent the first capacity upgrade to the iPhone since the original iPhone was given a 16GB choice in early 2008.
However, an 8GB model, whether or not it's part of the 2009 refresh, would support the as-yet unverified rumors that Apple may retain a less expensive iPhone model in its catalog. The Cupertino-based iPhone creator is facing the two-pronged challenge of both a struggling world economy — which contributed to its more modest iPhone sales last quarter — as well as a new wave of competitors. Palm just today launched its Pre smartphone with multi-touch and has been fortunate enough to receive generally positive reviews that cast the touchscreen device as one of the few truly serious rivals to Apple's share of the smartphone business.