Cost to build Apple's new iPhone 3G S estimated at $179
Apple's component and manufacturing costs for its new 16GB iPhone 3G S falls within $5 of those required to build last year's 8GB iPhone 3G, this despite a doubling of the handset's built-in storage capacity and the addition of several new components, according to a new tear-down cost analysis.
Market research firm iSuppli, which specializes in dismantling new electronic gadgets to identify their key components and assembly costs, estimates Apple's bill of materials (or BOM) on the 16GB iPhone to be $172.46 with a manufacturing expense of $6.50, for a total of $178.96.
The assessment is slightly higher than the firm's estimate of $174.33 to manufacture the original 8Gbyte iPhone 3G based on pricing in July 2008 when that handset first hit the market. These estimates do not include other charges, such as the costs to develop the iPhone's software, shipping and distribution, packaging, royalty fees and miscellaneous accessories included with each iPhone.
It's also important to note that while Apple's wireless partners offers the 16GB iPhone 3G S for as little as $199 with two-year service agreements, the actual price of the phone paid by those providers is considerably higher, reflecting a common practice amongst carriers to subsidize the upfront cost of a new phones for consumers and then profit off high-margin service subscriptions.
"From a component and design perspective, there's also a great deal of similarity between the 3G and the 3G S," said Andrew Rassweiler, director and principal analyst, teardown services, for iSuppli. "By leveraging this commonality to optimize materials costs, and taking advantage of price erosion in the electronic component marketplace, Apple can provide a higher-performing product with more memory and features at only a slightly higher materials and manufacturing cost."
Still, the firm was able to identify a few key differences in component selection of the iPhone 3G S compared to the iPhone 3G introduced a year ago. For starters, it sports a new $5.95 single-chip Bluetooth/FM/WLAN device from Broadcom, first identified by AppleInsider back in April as the BCM4329. This combo chip takes the place of two separate chips required to perform the same functions in the iPhone 3G — a Marvell WLAN chip and a Cambridge Silicon Radio Bluetooth integrated circuit — signaling another industry trend by which device makers are moving to higher levels of integration and simultaneously reducing the footprint of their devices by sandwiching many functions into more compact multi-function chipsets.
Also new to the iPhone 3G is an azimuth sensor from AKM Semiconductor, which was also first identified by AppleInsider in May as the AK8973, a 16-pin leadless IC package measuring 4mm square and 0.7mm thick. When paired with STMicroelectronics' accelerometer, which is a 3-axis device like the AK8973, the parts facilitate the iPhone's new digital compass feature. More specifically, the STMicroelectronics part allows the 3G S to determine device orientation or inclination, while the AKM sensor detects device movement relative to magnetic north, supporting the 3G S's capability to reorient a map displayed on the screen to correspond with the direction the user is facing.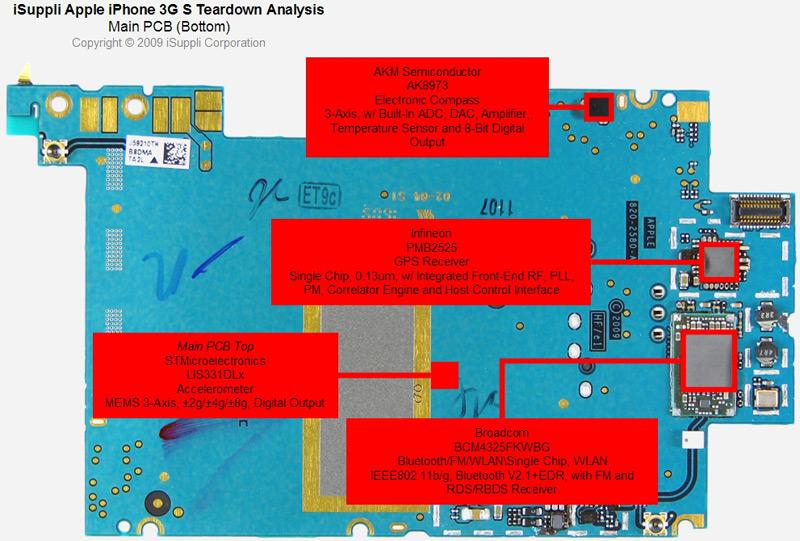 Also making its debut in the iPhone line is Dialog Semiconductor's $1.30 power management IC serving the 3G S's Samsung applications processor, which replaces a corresponding NXP Semiconductors device in last year's iPhone 3G, according to iSuppli.
Meanwhile, the firm notes that although there was wide-spread speculation that Qualcomm might displace Infineon as the supplier of the iPhone's critical baseband chip, Infineon was able to hold onto its seat and is currently supplying Apple with its PMB8878 chip, which accounts for $13 of the 3G S's total component costs. Similarly, TriQuint has reportedly kept its slot as the 3G power amplifier module supplier, supporting the tri-band HSPA functionality of the phone.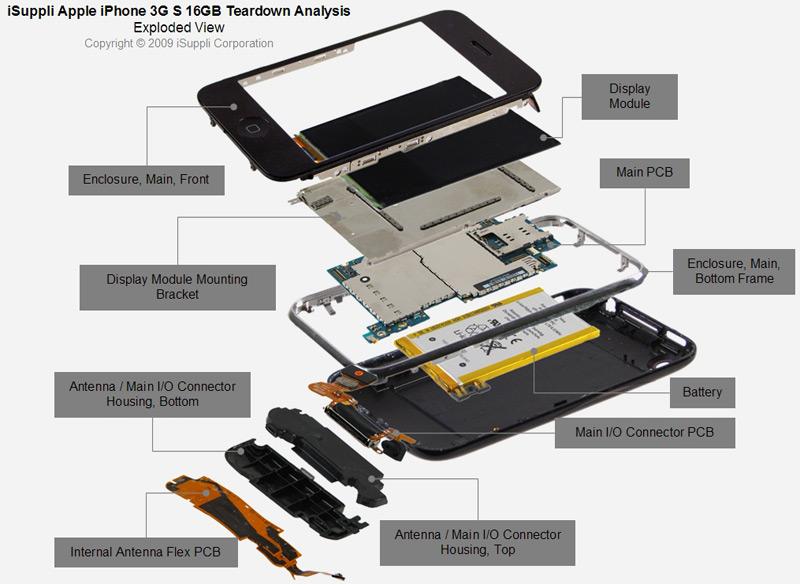 Generally speaking, Toshiba is believed to have scored the biggest single design win in the 3G S that iSuppli tore down, with its 16Gbyte Multilevel-Cell (MLC) NAND flash costing $24. However, Apple has long-term supply agreements with at least four other major flash memory suppliers who, including Hynix, Intel, Micron, and Samsung Electronics. Of these, Samsung has most likely been chosen to supply identical parts for a percentage of the iPhone 3G Ss that will be manufactured, as Apple has long sourced its iPhone flash memory from multiple suppliers.

Speaking of Samsung, the South Korean electronics maker also maintained its seat as iPhone's primary SoC supplier, as numerous reports have previously confirmed. Priced at $14.46, the applications processor is the fourth most costly component in the iPhone 3G S after the NAND flash, the display module and the touch-screen assembly. It runs at 600MHz compared to the 400MHz version in the iPhone 3G.