Apple's profit margin on Mac minis slimmer than usual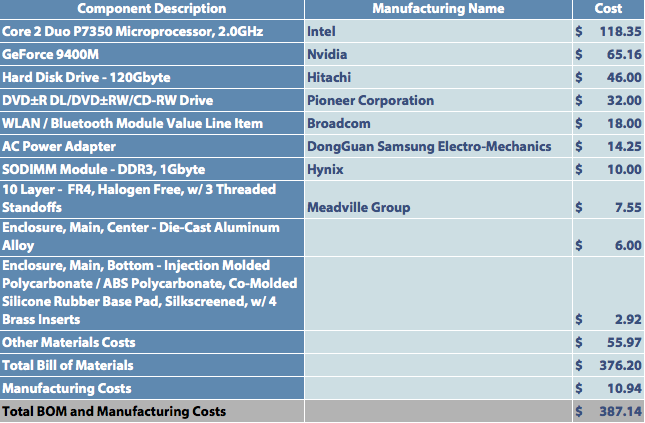 Apple's latest Mac mini continues to demonstrate the company's capacity to develop personal computers that are both smaller and more attractive than those of its rivals, but achieving its sleeker design footprint comes at the expense of razor-thin profit margins, a new tear-down cost analysis reveals.
Market research firm iSuppli, which has made a name for itself in recent years by tearing apart the some of the hottest electronics products on the market and then performing an analysis of their component makeup, says the new entry-level $599 Mac mini carries a bill-of-materials of $376.20, which increases to $387.14 when manufacturing costs are added.
Assuming the study is accurate, that leaves Apple with just over $200 in margin potential before factoring in costs associated with hardware engineering, royalties and licensing fees, software development, software loading and test, shipping, logistics marketing and other supply channel fees.
"Unlike most desktop computers from other brands, the Mac Mini and, indeed, Apple's entire Mac line make extensive use of components designed for notebook computers," said Andrew Rassweiler, director and principal analyst for iSuppli. "This enables the Mini and other members of Apple's computer line to achieve their very sleek and compact form factors, and to reduce energy consumption. However, the use of these components, along with other cost adders like software, yields a computer that is more expensive to make."
For example, iSuppli notes that the Mac mini's focus on mobile components starts at the top with its use of Intel Corp.'s Core 2 Duo P7350 microprocessor, which is designated as a mobile chip. The model dissected by the firm incorporated a 2GHz clock speed version the P7350, which carries an estimated price of $118.35. The high-end $799 Mac Mini features a 2.26GHz version of the microprocessor.
Another mobile microchip embedded in the Mac Mini is the Nvidia GeForce 9400M graphics and I/O controller hub, which carries an estimated price tag of $65.16. This is the same part commonly uses by Apple in its MacBook line, iSuppli notes.
Other mobile components in the Mac Mini that command a price premium include the 2.5-inch form factor Hard Disk Drive (HDD) and the slim Optical Disk Drive (ODD). The Hitachi 120GByte 2.5-inch-format HDD comes in at an estimated price of $46, while the ODD is priced at $32.
iSuppli also notes that in spite of the mini's use of some mobile components, and the latest energy-saving silicon process geometries, it sports a great deal of processing power. As a result, the diminutive desktop employs a 110-watt external power supply, representing a higher power usage than the first-generation model, which employed an 85-watt power supply.
"The new Mac Mini is a more powerful computer than the first-generation model, causing its peak power requirements to rise," Rassweiler said. "On the other hand, the Mac Mini has earned its green designation as it consumes less than 13 watts when in idle mode."
A full cost analysis of the $599 Mac mini can be seen in the table above.