Strong MacBook and iPhone sales to propel Apple stock - report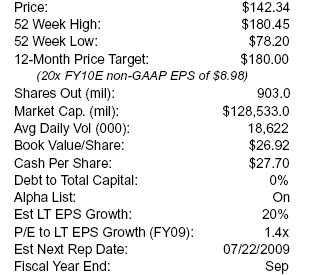 AppleInsider is supported by its audience and may earn commission as an Amazon Associate and affiliate partner on qualifying purchases. These affiliate partnerships do not influence our editorial content.
One week before Apple is set to report its third-quarter earnings, Minneapolis-based market analysis firm Piper Jaffray released a report suggesting the computer and portable device maker could beat street estimates on strong Mac and iPhone sales.
Given the recent successful launch of the iPhone 3GS and demand for the new unibody 13-inch MacBook Pro, the report, by senior research analyst Gene Munster, predicts that shares of AAPL stock will rise over the next three months.
Since Apple dropped the price of its 13-inch MacBook Pro to $1,199, demand has outpaced supply – so much so that the purchase lead-time is at levels not before seen by Piper Jaffray, which tracks turnaround for hardware orders.
"Our records show that Apple has never had a 7-10 day delay on its most popular 13" model, with the most recent significant delay being 5-7 days over 2 years," the report states. "We see this as a sign that demand is outpacing the company's build expectations, and it may take several weeks to reach a supply demand equilibrium."
While the lower price has been a boon for sales, it could also hurt Apple's bottom line. For the upcoming September quarter, Munster predicts that Apple's fiscal year-ending guidance will come in below the consensus earnings per share of $1.29, with the company's margins reduced by new pricing schemes. Such numbers are expected because of Apple's traditionally conservative guidance to investors.
Shortages of Apple's mainstream notebook offerings come just weeks after the company kicked off its back-to-school promotion offering students a free iPod touch with each Mac purchase. Apple also rebranded its 13-inch unibody MacBooks as more premium offerings under the MacBook Pro moniker.
And the launch of the iPhone 3GS in June led cell phone carrier AT&T to its single-best sales day of all time. However, Munster noted, there is a caveat in the success of the iPhone 3GS: The analyst predicts Apple sold 5 million iPhones in the third quarter, which is a reduction from the 6.9 million units sold during the launch quarter of the iPhone 3G.
"The 3GS was launched in just 8 countries this year (vs. the 3G in 21 countries last year)," the Piper Jaffrays report states, "so the international units will likely be weaker."
Still, sales of the iPhone 3GS are beyond internal expectations from both AT&T and Apple.
The picture isn't as rosy for iPod sales. Munster predicts a 7 percent year-to-year decrease in sales, though that total would be better than the street-expected 14 percent drop.

Looking ahead, Munster predicts Apple to offer guidance for the September quarter in-line with the market consensus of $9 billion in revenue. As of Tuesday morning, Apple's stock was selling for around $142 per share. Maintaining an "overweight" classification for the stock (meaning that it carries more value than other companies in the same sector), Piper Jaffray has a price target of $180 for AAPL over the next 12 months. Apple will report its third-quarter earnings on July 21.