U.S. carries most of iPhone, iPod touch market, for now - report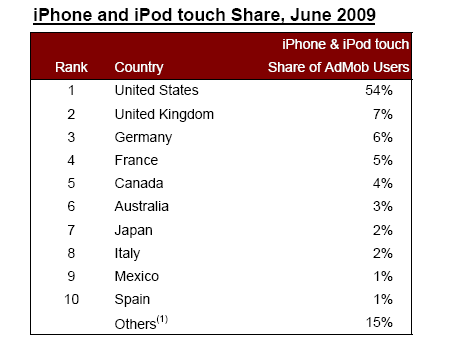 AppleInsider is supported by its audience and may earn commission as an Amazon Associate and affiliate partner on qualifying purchases. These affiliate partnerships do not influence our editorial content.
More than half of all iPhone and iPod touch users worldwide are from the U.S., though international popularity of both devices is currently outpacing growth in America, a study released Thursday shows.
Though the U.S. currently has an estimated 54 percent of the iPhone and iPod touch users, the Mobile Metrics Report from AdMob for June 2009 study suggests that international sales are currently growing faster than in the U.S. In January 2009, the U.S. made up 61 percent of global usage.
The iPhone is shown to be twice as popular as the iPod touch in the U.S., with the AT&T handset carrying a two-thirds market share of devices that run the iPhone OS.
While that ratio holds true in Latin America, overseas the iPhone has a significant market share lead over the iPod touch. For example, in Eastern Europe, more than 90 percent of users on the platform have the iPhone over the iPod touch.
Still, in the overall global calculations weighed heavily by U.S. dominance, the iPhone carries a two-to-one margin.
"In other words, iPhones comprised 68% of worldwide iPhone OS devices and the iPod touch made up the other 32%," the report reads. "This ratio has remained constant over the last several months, implying a similar growth rate for both devices worldwide."
During its quarterly earnings conference call Tuesday, Apple revealed that there are 45 million iPhone and iPod touch devices in consumers' hands worldwide. AdMob based its estimates on 16 million iPhone and iPod touch users who accessed their network in June 2009. The company has a network of more than 7,000 publishers and 2,500 applications worldwide.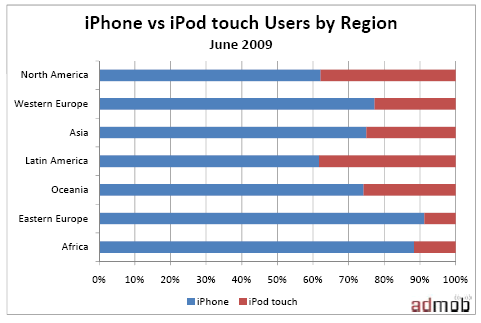 Other findings from the report: