Despite revenue decline, Apple Stores "turn the corner" - report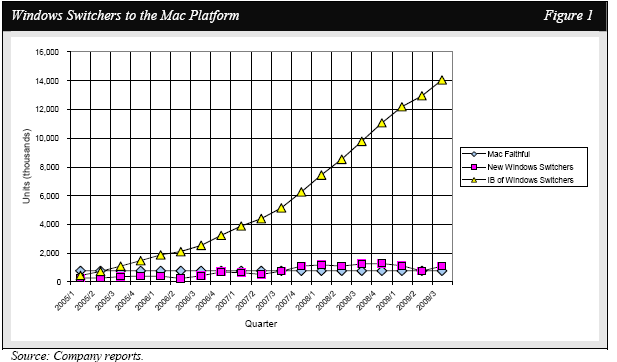 AppleInsider is supported by its audience and may earn commission as an Amazon Associate and affiliate partner on qualifying purchases. These affiliate partnerships do not influence our editorial content.
Apple's retail stores continued their year-over-year revenue slide last quarter, but a new report predicts that the brick-and-mortar locations could show growth again before the end of 2009, thanks, in part, to Windows switchers.
In a new investment analysis from Needham & Co., Apple's retail outlets are described as the "fourth leg of the stool." That echoes Chief Executive Steve Jobs' comments that his company is built on three legs: the iPod, the iPhone and the Mac. But analyst Charlie Wolf believes that Apple Stores justify the fourth leg because they play an instrumental role in attracting Windows users to the Mac platform.
Wolf highlights the stores' minimalist design and simple shopping experience; the abundance of employees and its effect on wait times; and the plethora of experts available to help customers.
"We estimate that Windows visitors represented well over half of the 150 million visitors to the stores in fiscal 2008. Indeed, the growing volume of traffic has created its own challenges," the report states. "With the growth of the Mac community, Apple has had to allocate increasing resources to servicing this community through the Genius and iPod bars."
He added: "These post-sale services are, of course, a major reason Windows users have switched despite the perceived premium at which Macs are priced. So it's imperative that Apple maintain the level of service it provided when the Mac installed base was much smaller."
Wolf estimates that since 2004, Windows switchers have nearly doubled the size of the Mac install base. Of the 492,000 Macs sold in Apple Stores in the third quarter, more than half were bought by Windows users. That means that about 25 percent of Windows switchers bought their Mac at an Apple retail location.
Though the Mac-maker's retail year-over-year revenues increased 3.5 percent, the company expanded its total number of stores in the same period by 20 percent. As a result, the recession had a major impact: Year-over-year revenue for the June quarter, based on same-store totals, declined 14 percent.
But the June quarter showed a noteworthy improvement over the March quarter, when the year-over-year impact dropped retail revenue 17.2 percent. Similarly, same-store Mac sales were down 14.1 percent in June, compared to the 21.9 percent decline in March. The June quarter was boosted by the debut of new MacBook Pro models and a price cut.
A Needham & Co. chart shows the exponential growth of the total install base of Windows switchers.
"In our view, this signals that the recession-induced decline in same-store sales should diminish going forward," the report states. "In the year ago September quarter, same-store revenues grew 15.5 percent, setting up a difficult comparison for this September. However, same-store sales growth could conceivably turn positive in December."
The nearly half-million Macs sold at retail locations was 16,000 more than the 476,000 consumers bought in Q3 2008. With half of all new Mac purchases coming from customers who never owned a Mac before, Apple's One to One program might play a large role for those consumers. This past quarter, the "new and improved" One to One Program launched. The new program resulted in a record 667,000 personal training sessions, designed to help people become acquainted with their new Mac.
Taking a cue from Apple, Microsoft intends to open its own retail locations this year. One of the Windows-maker's first stores will be located near an already-established Apple Store in Mission Viejo, Calif.