Apple brings App Store recommendations with iPhone OS 3.1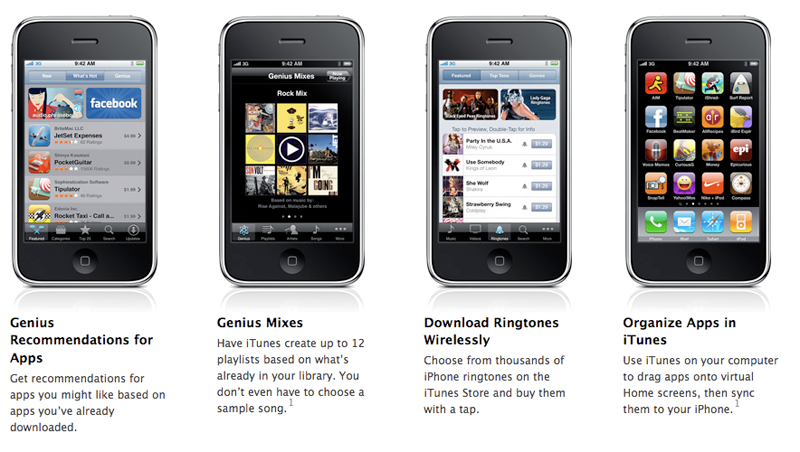 Apple Wednesday released a new version of its iPhone operating system, fixing bugs and bringing new features, including a "Genius" recommendation system for the App Store.
The update, iPhone OS 3.1, is available today as a free download from iTunes. For iPhone users, the version number is 3.1, while for iPod touch users it is labeled 3.1.1. The new Genius feature will recommend new applications to users based on software they already have installed.
In July, Apple Chief Executive Tim Cook said that the company was working on a fix for the App Store to make it easier to find new content. With tens of thousands of offerings available, it has become difficult for some to find what they are looking for.
The new software update also adds ringtones from record labels, directly into the iTunes application on the phone.
The update is also available for iPod touch users. Those who have paid to upgrade to 3.0 will receive the 3.1 update for free. For those who have an iPod touch but have not yet upgraded to 3.0, Apple also reduced the price to $4.95.
Apple also announced Wednesday that the company has sold 20 million iPod touches, and there are more than 75,000 applications available for download in the App Store. To date, more than 1.8 billion applications have been downloaded on the iPhone and iPod touch.
The complete list of fixes in iPhone OS 3.1 are as follows:
Improved syncing for music, movies, TV shows, podcasts, and photos
iTunes U content organization
Redeem iTunes Gift Cards, codes, and certificates in the App Store
Display available iTunes account credits in the App Store and iTunes Store
Save video from Mail and MMS into Camera Roll
Option to "Save as new clip" when trimming a video on iPhone 3GS
Better iPhone 3G Wi-Fi performance when Bluetooth is turned on
Remotely lock iPhone with a passcode via MobileMe
Use Voice Control on iPhone 3GS with Bluetooth headsets
Paste phone numbers into the keypad
Option to use Home button to turn on accessibility features on iPhone 3GS
Warn when visiting fraudulent websites in Safari (anti-phishing)
Improved Exchange calendar syncing and invitation handling
Fixes issue that cause some app icons to display incorrectly
AppleInsider has affiliate partnerships and may earn commission on products purchased through affiliate links. These partnerships do not influence our editorial content.