Multi-phone Android platform seen overtaking iPhone by 2012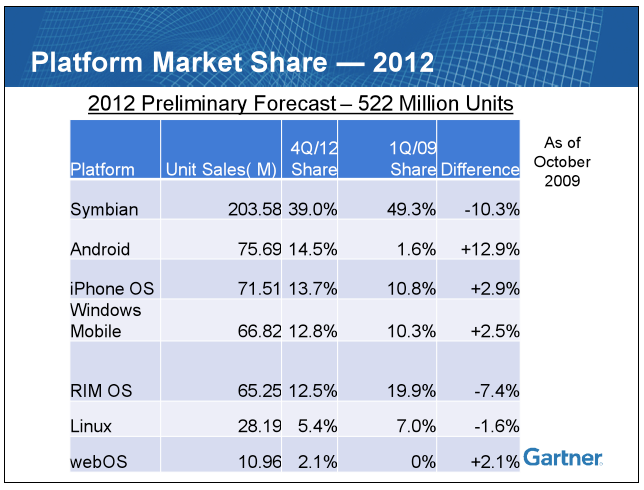 Due to its presence on multiple manufacturers' devices, Android will overtake Apple's iPhone in terms of market share by 2012, an analyst has predicted.
Ken Dulaney, vice president and distinguished analyst with research firm Gartner, said he believes the iPhone will maintain its No. 3 overall smartphone position. But the current second-place platform from Research in Motion will lose more than 7 percent total market share, while he expects Android to grow in leaps and bounds and take that spot. Symbian OS from Nokia is expected to stay on top.
The forecast is part of a presentation Dulaney is scheduled to give at Gartner's Symposium ITxpo, which runs Oct. 18 through 22 in Orlando. The data is based on an estimated 522 million smartphones to be shipped during the period.
"All players in smartphones should see good growth at the expense of the next category down, feature phones which are in turn moving down into the category that used to be called basic phones," Dulaney told AppleInsider.
Apple currently has a 10.8 percent share of the smartphone market, which is predicted to grow to 13.7 percent by 2012, with sales of 71.5 million units. And even though Symbian and Nokia are predicted to lose 10 percent of the market, the platform's massive lead keeps it well ahead of competitors with 39 percent in 2012.
Dulaney said he believes Android will surpass the iPhone in market share because many handset makers are "betting their future" on Google's Android platform, while Apple is only one company.
"Android rises to number two simply because, unlike Apple, they license their OS to multiple OEMs," Dulaney said. "They have the number 2 OEM, Samsung, and strong players like LG, Motorola, HTC and now Dell. There are others in the works. Apple will still likely have the top of mind in the marketplace with probably the most purely defined consumer product."
Dulaney's forecast is lower than an August prediction by Mike Abramsky with RBC Capital Markets. He believes that total iPhone shipments will hit 82.1 million in 2012, good for a 16.3 percent share of the smartphone market.