Apple updates MobileMe file sharing, iPhone features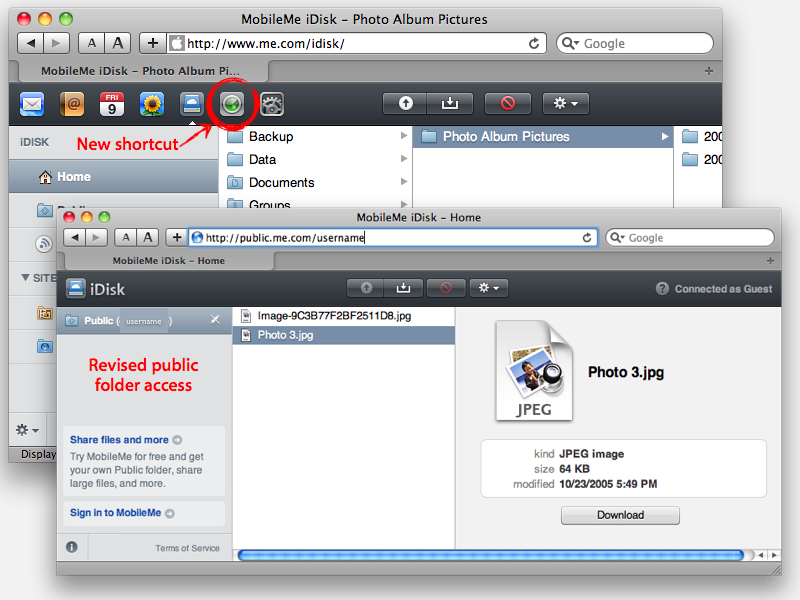 Apple's MobileMe cloud services package has been updated to improve its public file sharing features and make it easier to locate the Find My iPhone page. The web apps still can't be accessed from the iPhone however.
The company issued the update Friday. Users who login will notice a new "radar sweep" icon in the navigation bar, which serves as a direct link to pull up the Find My iPhone page. This feature, which was introduced alongside the iPhone 3.0 update, was previously hidden in under the Settings page.
The update also addresses Public shared files in the user's iDisk, which can be made fully available to anyone or restricted to users who know a Public password set by the user. The revamped interface now allows users to password-protect their Public folder and provides the option to enable visitors to upload, move and delete any publicly shared files.
However, the new settings are hidden behind a Preferences item within the drop down menu displayed by the "gear icon" action button. This is an odd choice given the vast expanse of blank space available for adding a more obvious preferences or password setting control.
Apple also gave the public iDisk page MobileMe's SproutCore treatment, which provides a cohesive look and feel and supports direct drag and drop of files between folders within the web page (but not to or from the desktop). The update also enables users to connect to another user's Public folder while being currently logged into their own MobileMe account.
As was previously the case, MobileMe makes access personal and public iDisk files available from the desktop as a WebDAV file share on Windows or via the Finder using the Go/iDisk menu, and viewable from the iPhone using the free iDisk app.
Web apps still blocked from iPhone access
Apple has yet to address the most bizarre problem with MobileMe: the web service is completely and intentionally blocked to iPhone users. Rather than providing web-based access to the site via the iPhone's browser, users attempting to pull up me.com are sent to a special landing page that tells them to use the phone's native Mail, Calendar, Contacts, and Photos apps instead.
This prevents iPhone users— the very demographic Apple is trying to reach as subscribers— from accessing their MobileMe account information (such as changing their password), looking up the location of other iPhones attached to their MobileMe account with Find My iPhone, logging into an alternative account (such as offering a guest web access to their own account on the iPhone) or troubleshooting problems with email connectivity (such as local SMTP mail delivery problems in a given location that could be resolved with direct webmail access).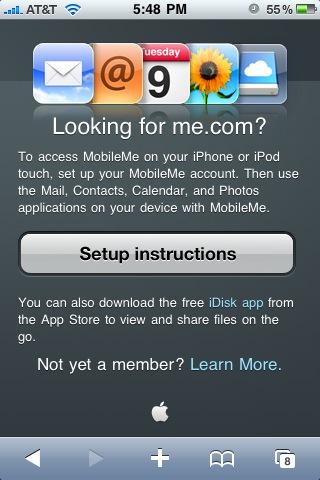 The company has added some custom support for accessing MobileMe features from the web, including a mobile-optimized Gallery for viewing shared pictures. Apple's refusal to support access to more or most of MobileMe from the iPhone or iPod touch is particularly strange given the company's marketing that referred to the iPhone's browser as providing access to the "real Internet."
MobileMe also begs for HTML5 treatment, enabling features such as offline access to webmail and direct playback of media files and documents within iDisk folders. MobileMe currently only supports viewing of graphics and movie files saved within a Gallery.