Apple's offers faster Mac minis and new server-oriented model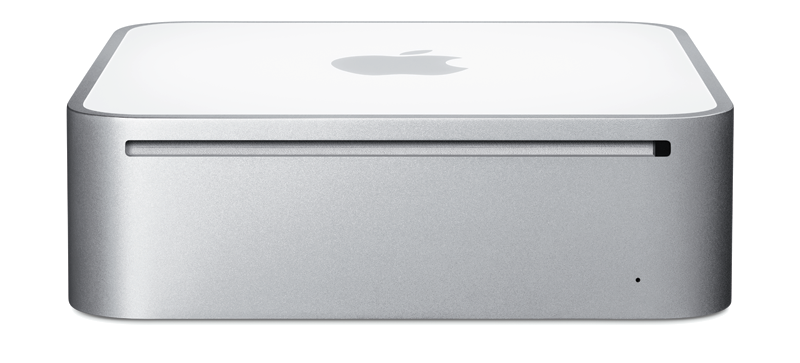 AppleInsider may earn an affiliate commission on purchases made through links on our site.
Three new Mac mini models were released by Apple Tuesday, with a 1TB Mac OS X Server option accompanied by two faster, upgraded consumer-level versions.
Billed as the world's most energy efficient desktop, the new Mac mini is said to be faster, offer more storage and come standard with double the memory.
Starting at $599, the entry level Mac mini features a faster 2.26 GHz Intel Core 2 Duo processor and 2GB of DDR3 1066 MHz memory, a 160GB hard drive, five USB 2.0 ports, FireWire 800, NVIDIA GeForce 9400M integrated graphics and a SuperDrive.
The $799 Mac mini features a 2.53 GHz Intel Core 2 Duo processor, 4GB of memory and a larger 320GB hard drive.
The new $999 Mac mini is specially configured with Mac OS X Snow Leopard Server. It features two 500GB hard drives for a total of 1TB of server storage in the tiny 6.5-inch square by 2-inch tall Mac mini enclosure.
The new Mac minis meet the new, more stringent Energy Star 5.0 requirements and achieve EPEAT Gold status. It uses PVC-free internal components and cables, contain no brominated flame retardants, use highly recyclable materials, and feature material-efficient system and packaging designs.
AppleInsider reported on a new Mac mini server edition almost one year ago. The new hardware was apparently delayed some time before Tuesday's launch.
The new Mac mini has the following features:
2.53GHz Intel Core 2 Duo processor
3MB on-chip shared L2 cache running 1:1 with processor speed
1066MHz frontside bus
4GB (two 2GB SO-DIMMs) of 1066MHz DDR3 SDRAM
One FireWire 800 port (up to 800 Mbps)
Five USB 2.0 ports (up to 480 Mbps)

Graphics and video support
NVIDIA GeForce 9400M graphics processor with 256MB of DDR3 SDRAM shared with main memory3
Extended desktop and video mirroring: Simultaneously supports up to 1920 by 1200 pixels on a DVI or VGA display; up to 2560 by 1600 pixels on a dual-link DVI display using Mini DisplayPort to Dual-Link DVI Adapter (sold separately)
Mini-DVI port
DVI output using Mini-DVI to DVI Adapter (included)
VGA output using Mini-DVI to VGA Adapter (sold separately)
Mini DisplayPort output
Built-in AirPort Extreme 802.11n Wi-Fi wireless 802.11n networking4; IEEE 802.11a/b/g compatible Bluetooth
Built-in Bluetooth 2.1 + EDR (Enhanced Data Rate)
Built-in 10/100/1000BASE-T Gigabit Ethernet (RJ-45 connector)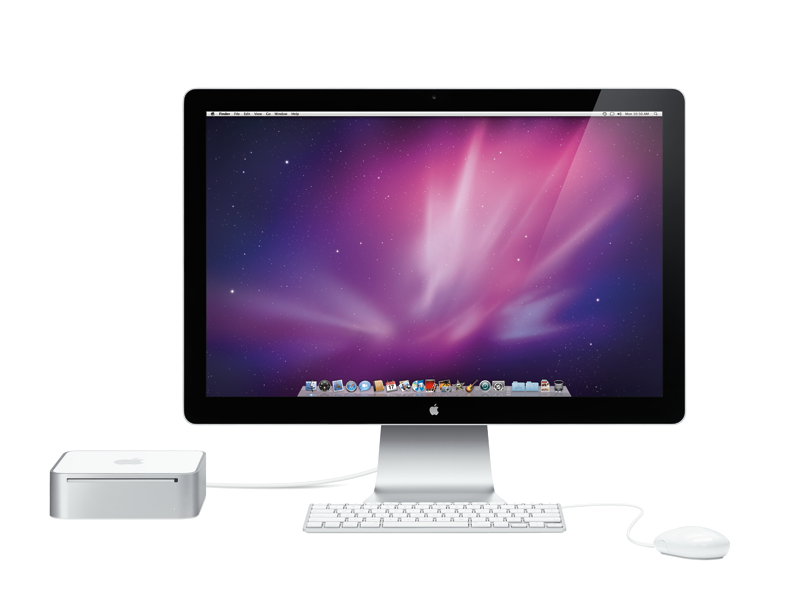 Combined optical digital audio input/audio line in (minijack)
Combined optical digital audio output/headphone out (minijack)
Built-in speaker
Mac mini with OS X Snow Leopard Server includes two 500GB hard drives.
The consumer Mac mini offers one 160GB, 320GB, or 500GB serial ATA hard drives.
The consumer also comes with a slot-loading SuperDrive with double-layer support (DVD±R DL/DVD±RW/CD-RW): Writes DVD+R DL and DVD-R DL discs at up to 6x speed, writes DVD-R and DVD+R discs at up to 8x speed, writes DVD-RW discs at up to 6x speed, writes DVD+RW discs at up to 8x speed, Slot-load optical drive reads DVDs at up to 8x speed, writes CD-R and CD-RW discs at up to 24x speed, reads CDs at up to 24x speed