Apple's new 27 inch iMac designed to also work as a display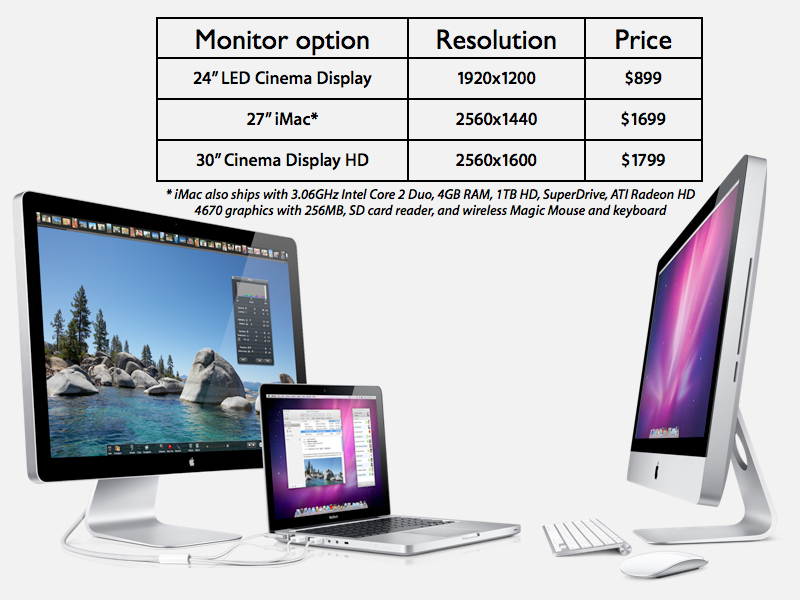 Apple has designed its new 27" iMac model to serve as an external display for DisplayPort devices such as recent MacBook and MacBook Pros.
The new model is the first all-in-one system from Apple that doubles as an external display. Attaching a notebook or other device capable of DisplayPort output only requires the use of the appropriate cable. All of Apple's recent Macs, from its notebooks to the iMacs and Mac mini, use a Mini DisplayPort connector, so linking a notebook to the display would require a cable with that connector on both ends.
There was previously no existing need for such a cable, so it may take time for these to appear on the market. (Update: Apple already lists a Belkin cable for this purpose.)
The company's existing 24" LED Cinema Display, intended primarily for use with recent MacBooks, uses a combined cable that pairs USB, Mini DisplayPort, and power into a single wiring harness. The display itself lacks a Mini DisplayPort input port. Earlier Cinema Display models, such as the 30" screen Apple continues to sell, use DVI connectors instead.
The high end iMac now supplies a screen larger and with significantly more pixels than its standalone 24" LED Cinema Display model (which for $899 sports a 1920x1200 resolution), providing a 2560x1440 native resolution nearly as large as the company's 30" Cinema Display HD (which delivers 2560x1600 but costs $1799). With all those pixels on the new 27" iMac, Apple couldn't resist giving users the option to use the screen for more than just the iMac (note that the 21.5" iMacs do not support video input).
Being able to support DisplayPort input also opens the possibility for users to connect a Blu-Ray player, TV tuner, or other device to their iMac for non-computing display purposes. The wide screen display is now a cinematic 16:9 aspect ratio, the same as HDTVs.
Like its most recent standalone display, the new 27" iMac uses LED backlighting to provide an instant on picture that is uniformly bright. LED backlighting (versus the more conventional backlight using cold cathode fluorescent lamps) also supports finer grained brightness control, allows for a thinner enclosure, and happens to be more environmentally sensitive because it doesn't require the use of highly toxic mercury.
Apple is also touting the new iMac display's IPS (in-plane switching) screen technology, which it credits for the new iMac's color reproduction performance and extremely wide 178 degree viewing angles. It has also returned to selling a VESA mounting adapter for its iMacs, which allows users to attach their 30.5 pound screen to a wall for HDTV-style viewing.