Apple stores upgrading from Windows-based EasyPay to iPod touch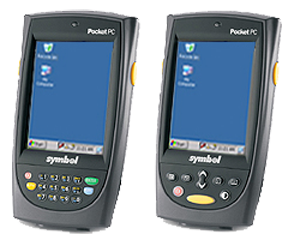 Multiple sources have noted that Apple will be transitioning its retail store EasyPay handheld checkout systems from Windows-based PDA devices to iPod touch hardware for the 2009 holiday season.
Tipsters have all confirmed that Apple is already in the final stages of rolling out new EasyPay terminals based on the iPod touch combined with a credit card reader and barcode scanner.
One reader reported that the new devices are already being used to ring up sales at Apple's Valley Fair Mall store in Santa Clara, California, the closest retail outlet to the company's corporate headquarters in Cupertino.
"These things look really cool, much smaller than the Windows-based ones and faster too. They seem to be running a trial at that store, Palo [Alto] did not have them," the reader said.
Back in April, AppleInsider reported that Apple had started work to replace its existing Pocket PC EasyPay devices built by Symbol and running Windows Mobile, made possible by new accessory support in the new iPhone 3.0 software.
Apple began using the Symbol devices (pictured below with a fake Windows 95 desktop; Apple's devices have black and white screens and are equipped in a holster) to speed up checkout lines in its retail stores beginning in 2005, and continued using them even after two generations of the iPhone left some observers wondering why the company wasn't using its own mobile platform.
Developing a custom solution based on the iPhone would have been an expensive project just to create a dozen or two devices for each of the company's 225 retail stores. However, with the move to iPhone 3.0 and third party support for point of sale software and devices, there's now little reason for Apple to stick with its slow, problematic Windows CE devices, which retail employees reported little satisfaction in using.
Like other Windows Mobile/Pocket PC devices, the EasyPay systems require a stylus to operate, they look clunky, and they're susceptible to crashing or losing WiFi connectivity, all of which impact Apple's ability to do business in a professional manner. Problems with EasyPay systems
were blamed for helping to create long lines at the launch of the iPhone 3G last year.
Existing EasyPay terminals "are huge old ugly pieces of junk," one user confessed. "I hate these things. In the middle of a transaction, I'll hit 'next' and end up dumped back at the login screen. It's so frustrating."
Existing Pocket PC EasyPay devices have an integrated barcode reader for identifying products without typing in their SKU, but "the barcode scanner takes five seconds to register," complained one frustrated Apple Store employee in the busy retail flagship in downtown San Francisco. Once the purchased items are all entered, clicking on "tender" to add tax "takes forever," another user familiar with the devices noted. "What is it doing? It's just calculating the tax."
Moving to the iPod touch will also help Apple demonstrate its products at work, and save the company money both in buying EasyPay terminals and in upkeep. Retail employees note that the company has to maintain a large inventory of the Symbol devices because so many of them have hardware or software issues. The Pocket PC devices cost between $800-$1000.
The company's retail stores already use MacBook Pros running Mac OS X as stationary POS [point of sale] systems, but store managers encourage their employees to seek out customers who are waiting to make a purchase and help them with the handheld EasyPay systems.
"Apple's own POS application on Mac OS X flies," said one retail worker experienced with using both. Faster, more reliable new iPod touch EasyPay devices should help make mobile purchases not only easier, but also motivate employees to serve customers with less frustration and more enthusiasm.
Apple is also running a pilot program that allows its EasyPay-toting employees to accept cash for purchases, which the employees will then carry to cash drawers located under tables.
The new changes are expected to help the company's retail stores improve the efficiency and level of service for customers during the holiday rush. Apple may be able to sell its old Pocket PC EasyPay terminals to Microsoft for use in its own retail stores.
Update: IFOAppleStore also notes that Apple will be getting rid of its color-coded shirts for retail employees, which were intended to identify different employee roles. Orange, dark blue, light blue, medium blue and black shirts are currently issued to specialists, genus bar workers, concierge greeters, and so on, but the different uniform colors were found to be more confusing than helpful to customers. Apple will return to using a single shirt color for all store employees, which will change over time. The site also confirms that Apple will move to iPod touch EasyPay devices across the board for the holiday season.