Philadelphia's first Apple store moves closer to reality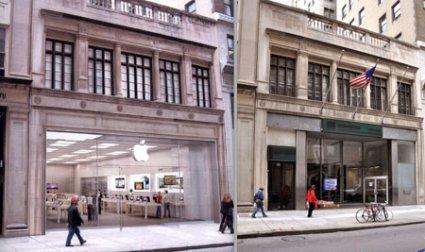 AppleInsider is supported by its audience and may earn commission as an Amazon Associate and affiliate partner on qualifying purchases. These affiliate partnerships do not influence our editorial content.
Apple's long-awaited plans to bring a retail store to the City of Brotherly Love look to be near realization, with the company now hiring employees and obtaining permits.
News of the planned location at 1609 Walnut St. first surface early this year. Apple's online job listings currently allow applicants to seek employment at the forthcoming Walnut Street location. Openings available for the store manager, Genius, Specialist and more.
In addition, Apple is scheduled to appear before the Philadelphia Art Commission Tuesday for approval of the store, which is intended to have a "futuristic all-glass exterior," according to Metro. The current location is an empty storefront, but members of the Art Commission hope that Apple's design proves elegant, like its Fifth Avenue store in New York City.
The property is said to be nearly ready for construction. No zoning changes are expected, and pending approval from the Art Commission, the last hurdle would be construction permits.
The retail market in the Center City area surrounding Walnut Street has prospered since the early '90s, as young professionals and empty nesters have increasingly chosen the district as their home. However, more recently the location has reportedly been the victim of retail slowdown. The neighborhood includes retailers such as Brooks Brothers, Steve Madden and Armani Exchange.
In January it was reported that Bohlin Cywinski Jackson was tapped to design the store. That's the same firm responsible for high-profile Apple retail outlets in New York, London and Tokyo.
A rendering of the new Apple store, side-by-side with the current location. Picture via Metro.
The 39,000 square-foot Philadelphia building dates back to 1937, and is listed on the National Register of Historic Buildings. Art Commission Executive Director William Burke told Metro that the building has been rehabilitated a number of times over the last 40 years, but Apple's reconstruction will restore the building.
"They're going to clean all that off and purify the design," he said. "It's a nice building that contributes to the character of the street."