The Beatles go digital with apples, but still not Apple's iTunes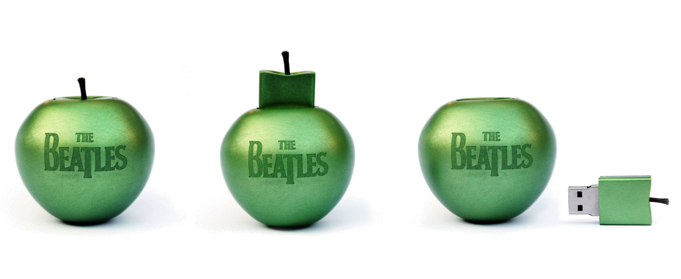 AppleInsider may earn an affiliate commission on purchases made through links on our site.
The Beatles announced Wednesday they will release their music catalog digitally in December, but the iconic group's songs are still not due for release on iTunes.
Apple Corps Ltd., the company owned by The Beatles, and EMI Music will release the digitally remastered catalog on Dec. 7 overseas and Dec. 8 in North America in digital form via Beatles Stereo USB apples. The limited edition product will have a run of only 30,000.
The product will have a "specifically designed Flash interface" that uses 16GB of capacity to provide the audio in both lossless FLAC 44.1 Khz 24-bit and MP3 320KBps formats. The product, which costs $279.99 or £200.00, is compatible with both PC and Mac.
"This unique, apple-shaped USB drive is loaded with the re-mastered audio for The Beatles' 14 stereo titles, as well as all of the re-mastered CDs' visual elements, including 13 mini-documentary films about the studio albums, replicated original UK art, rare photos and expanded liner notes," the product description states.
On Sept. 9, the same day as the Apple keynote where new iPods were unveiled, The Beatles re-released their entire discography, remastered in stereo. The box set with CDs carries a suggested price of $219, meaning the limited edition USB stick runs with a $50 premium.
The new product is yet another sign that The Beatles could be softening up to the idea of potential future digital distribution. In September, the band's catalog was also included in the rhythm game The Beatles: Rock Band, which includes downloadable content for the Xbox 360, Playstation 3 and Wii.
Rumors of The Beatles' songs coming to iTunes have persisted for years. The move seems far more likely to happen soon than it did years ago, when Apple and Apple Corps were engaged in a trademark dispute. In 2007, those issues were resolved, leaving many to believe an appearance for digital downloads would soon follow, though it never did.