Apple begins shipping quad-core 27-inch iMac models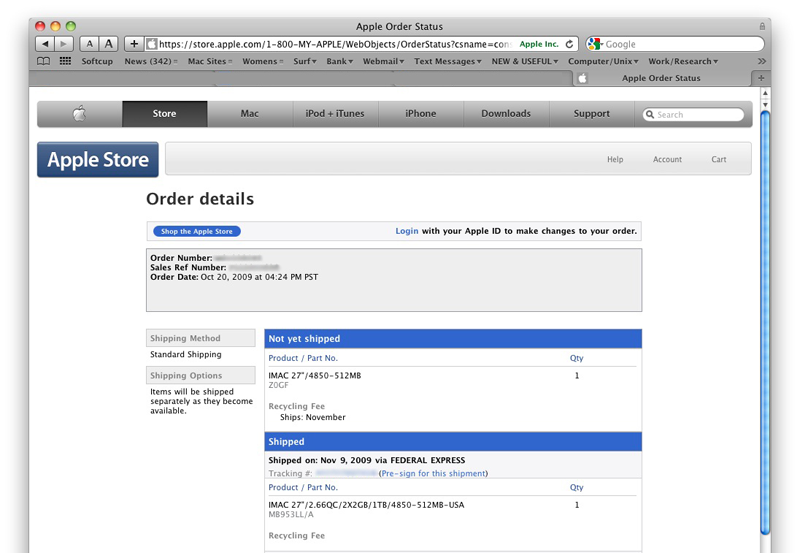 AppleInsider is supported by its audience and may earn commission as an Amazon Associate and affiliate partner on qualifying purchases. These affiliate partnerships do not influence our editorial content.
Apple's top-of-the-line 27-inch iMacs, powered with Intel quad-core processors, have begun shipping to those who purchased the machines in October, AppleInsider has learned.
Readers have said that Apple has notified them that their hardware has finally shipped from Shanghai. One order said to have been placed a day after the systems were announced was processed last week and shipped Monday.
When they were announced in October, the new Core i5 and i7 quad-core Intel-powered machines were said by Apple to ship in November. The new iMac sports a massive 27-inch screen with a LED backlight, 16:9 ratio, and 2560x1440 pixel resolution.
The 27-inch 2.66 GHz Core i5 750 iMac has a suggested retail price of $1,999. Apple also offers a build-to-order option for $200 more with a 2.8 GHz Intel Core i7 860 processor. Both quad-core iMacs include 8MB of L3 cache, and Apple benchmarks the high-end "Nehalem" Core i7 as being 2.4 times faster than the Core 2 Duo. In all, the systems include:
27-inch 2560 x 1440 LED-backlit display
2.66 GHz Intel Core i5 quad-core processor with 8MB shared L3 cache
4GB 1066 MHz DDR3 SDRAM expandable to 16GB
ATI Radeon HD 4850 discrete graphics; with 512MB GDDR3
1TB Serial ATA hard drive running at 7200 rpm
A slot-load 8x SuperDrive with double-layer support (DVD+ / -R DL/DVD+ / -RW/CD-RW)
Mini DisplayPort for video input and output (adapters sold separately)
Built-in AirPort Extreme 802.11n wireless networking and Bluetooth 2.1+EDR
Built-in iSight video camera
Gigabit Ethernet port
Four USB 2.0 ports
One FireWire 800 port
SD card slot
Built-in stereo speakers and microphone
Wireless Apple Keyboard, Magic Mouse.
Discounted prices on the new iMac systems are available via the AppleInsider Mac Pricing Guide: