Mac marketshare grows in Europe as Apple's competitors struggle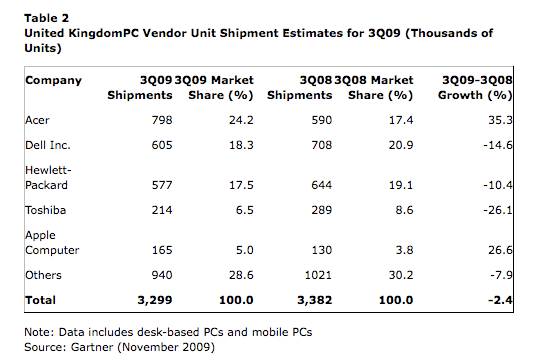 PC sales in the U.K. and Western Europe diminished over the past year while Apple's market share has grown, as higher-priced Macs have found success in the midst of down economy.
New European sales figures for the third financial quarter of 2009 were released by research firm Gartner Wednesday, and overall U.K. PC shipments were down 2.4 percent. The data showed Apple's market share of PC sales in the U.K. increased from 3.8 percent in 3Q 2008 to 5 percent in 3Q 2009. In the three-month frame, Apple shipped 165,000 Macs, good for 26.6 percent growth from last year.
"Apple leveraged the 'halo' effect of the Apple brand created by the iPods and iPhones into the PC arena, dominating the mid to higher price brackets," Gartner said.
Apple made its debut in the U.K. top 5 in the first quarter of 2009. For that frame, the Mac maker had a 4.8 percent market share.
The only manufacturer to exceed Apple's growth in the U.K. was the top-selling Acer, which saw 35.5 percent growth based on the strength of its low-cost netbook sales. Acer shipped 798,000 PCs during the frame, good for a 24.2 percent market share.
Industry veterans Dell and Hewlett-Packard saw decreases of more than 10 percent year-over-year as they came in second and third place, respectively. Toshiba, with a massive 26.1 percent decline from 2008, took fourth place. Just behind Apple in sixth place in the U.K is Samsung, with a 4.8 percent market share for the quarter.
It's the same story in Western Europe, where overall shipments declined 0.3 percent for the quarter, but Gartner said the "biggest winners" were Apple, Samsung and Acer. Though Apple and Samsung did not crack the top five and specific numbers were not available, Acer managed a 28.3 percent market share in Western Europe during the third quarter. The company saw 21.3 percent year-over-year growth.
Good news for the rest of the European PC markets in France and Germany, where year-over-year sales returned to growth. France's PC industry increased 1.9 percent in the third quarter, while shipments in Germany grew 3.7 percent. Acer was again the top manufacturer in both territories, commanding more than a quarter of the market in each. Apple did not crack the top five in either nation.
In October, domestic Mac shipments grew 11.8 percent year-over-year, giving Apple an estimated 9.4 percent of the U.S. PC market. For the frame, Apple was the fourth-largest PC maker in the nation.