Apple investigates space-age fitness tracking technology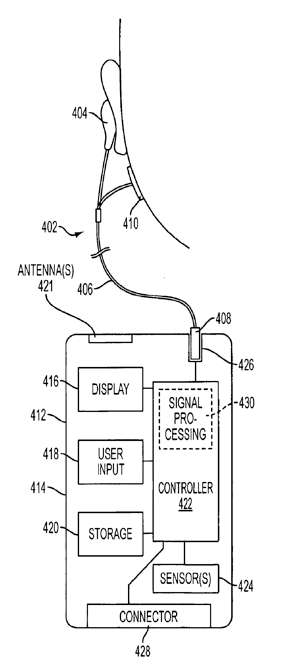 AppleInsider is supported by its audience and may earn commission as an Amazon Associate and affiliate partner on qualifying purchases. These affiliate partnerships do not influence our editorial content.
New patent applications revealed this week show that Apple has investigated technology with advanced physiological sensors for measuring workout activity from inside the user's ear canal.
In addition, the iPod maker has also applied for creation of a system to share graphical user interfaces with external accessories.
Apple's advanced performance tracker
Apple currently has a number of fitness-oriented features available in its iPod line, but the Cupertino, Calif., company's latest patent describes an extremely advanced system using unique technology. Among a number of described methods for measuring exertion during physical exercise include sensing light that travels through the user's earlobe to determine blood oxygen levels.
In one of the examples provided in, an earbud could include infrared photodetectors that would measure the user's body temperature, heat flux and heart rate.
"From infrared radiation in the user's ear, sensors... can detect minute temperature variations due to the user's heart beats," the application reads. "Heart rate can be calculated based on time between beats and the user's temperature can be set as the 'DC Component' (or average or median value) of the detected temperature distribution. Other sensors can also be used for tracking the same physiological metrics or different physiological metrics."
In another example, a light source and photodetector allow the hardware to determine a user's blood oxygen content. Such a system would "detect the portion of such light that passes through the user's earlobe, the remaining light having been absorbed within the user's earlobe. From the relative absorption of these two wavelengths of light, the user's blood oxygen content can be calculated."
Yet another example of a potential device describes a user wearing a separate sling to accurately measure their heart rate, and would wirelessly transmit the data to an iPod or iPhone. Such a system could detect anomalies due to the user's movements, and automatically filter them out from the data to give a more accurate reading. The application was filed on July 23, 2009.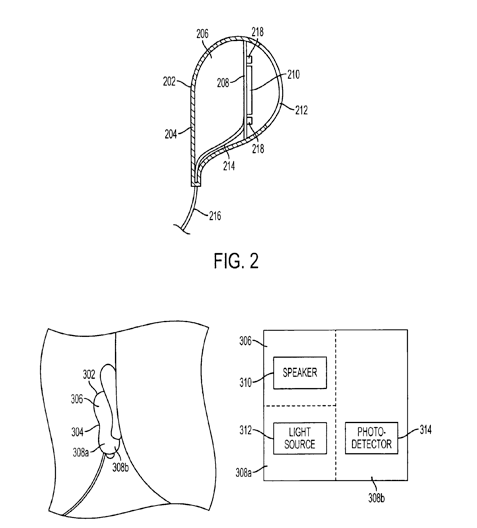 Nike already plans to sell a heart rate monitor that would be compatible with the latest iPod nano. The Nike+iPod kit is mentioned in the patent application, but Apple's described methods employ new, more advanced sensors to measure athletes.
Apple in the past has filed patent applications for a number of fitness-related technologies. In one example, the company described an iTunes-like software application that would "interview" the user on their fitness goals, desired activity levels and fitness interests. The software would also utilize hardware-based heart rate and physiological sensors to help users get in better shape.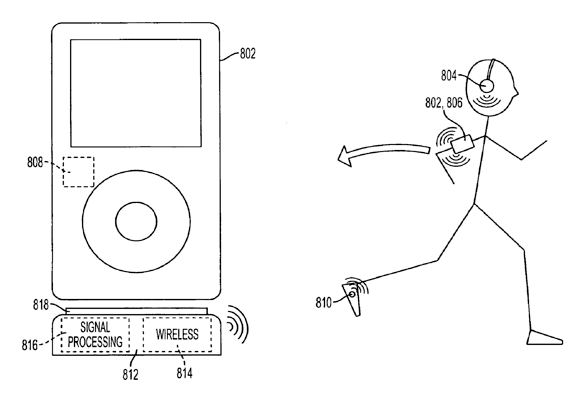 Another new application describes a system that would "push" the graphical user interface (GUI) of one device to another. Such a system could allow the user interface of an iPod to be replicated on a dock it is plugged into.
The described system is somewhat similar to the free Apple "Remote" application available for the iPhone and iPod touch on the App Store, which allows users to remotely control iTunes. That software uses Wi-Fi to share artist and track info, as well as playback data and album art from the host computer.
The new system could extend to multiple devices, and aims to make user experiences identical across different hardware. Apple, in the patent application, noted that the current unintuitive systems are frustrating and difficult for most users.
"Certain functions available on the portable media device (such as browsing or searching a database, adjusting playback settings, etc.) may be unavailable or difficult to find. Thus, a user may not be able to perform desired functions," the document reads. "Further, GUIs provided for the same portable media device by different remote control devices might be quite different, and the user who connects a portable media device to different accessories with remote control may find the inconsistencies frustrating."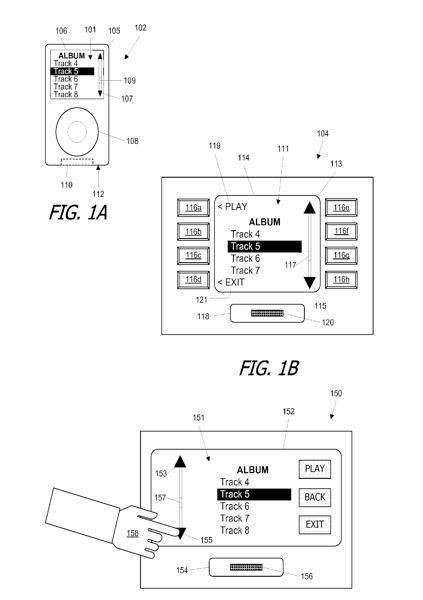 The described system would allow the GUI of a device to be "defined and managed" by a portable device like an iPod or iPhone, which would provide the graphical images to be displayed. The external accessory would then send user input information back to the media player. The patent application was filed on May 13, 2008.