Apple and Live Nation debut iTunes live music program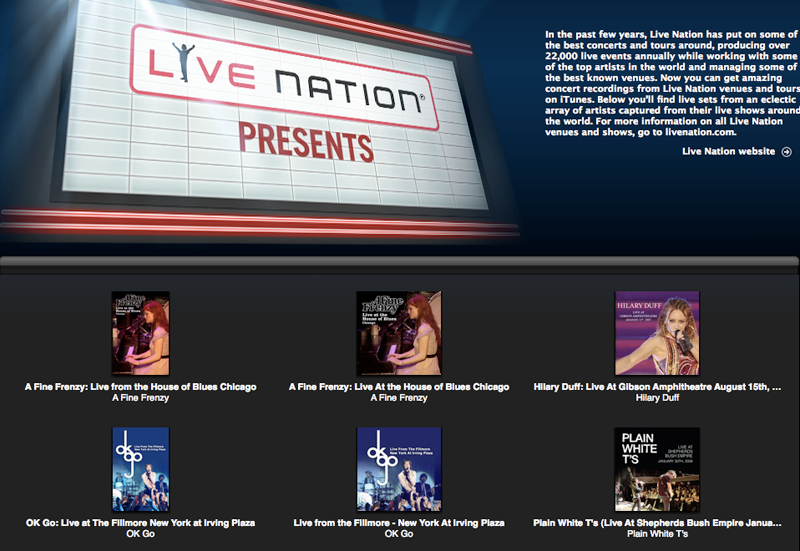 AppleInsider may earn an affiliate commission on purchases made through links on our site.
Apple has teamed up with concert promoter Live Nation to launch a new live music program that offers exclusive recorded and filmed concerts, both companies announced Tuesday.
The new content stems from Live Nation's network of "wired" venues that have exclusive recordings from artists like Ziggy Marley, OK Go, Hillary Duff, Plain White T's, and Duffy. The content is featured on a new iTunes page entitled "Live Nation Presents."
"In the past few years, Live Nation has put on some of the best concerts and tours around, producing over 22,000 live events annually while working with some of the top artists in the world and managing some of the best known venues," the page reads. "Now you can get amazing concert recordings from Live Nation venues and tours, on iTunes. Below you'll find live sets from an eclectic array of artists captured from their live shows around the world."
The Live Nation Studios division records concerts in more than 80 venues that have been dubbed "next-generation wired live recording studios." Live Nation said the program extends the live concert experience well beyond the show itself, giving customers exclusive content and offering touring artists another opportunity to offer audio and video content directly to their fans.
"We are thrilled to offer artists a new high-quality platform to share the magic of their live shows with their fans," said Michael Rapino, president and chief executive of Live Nation.
Apple's iTunes is the No. 1 seller of music in the U.S., with a 25 percent market share estimated this summer. That's well ahead of the second-place seller of music, Walmart, which has 14 percent. Digital music downloads make up 35 percent of total sales, and iTunes represents 69 percent of the download market. In second place is Amazon, which sells 8 percent of online music.
Live Nation produces over 22,000 concerts each year, for 1,600 different artists performing in 33 countries across the world. The company sold over 50 million concert tickets in 2008.
Apple this year has expanded its music lineup to provide more variety for customers. In July, the service introduced a throwback to the old two-song 45rpm vinyl record with the iTunes D45. And in September, iTunes LP was unveiled, packaging bonus content with sales of whole albums.