iPhone users most likely consumers to pay for digital content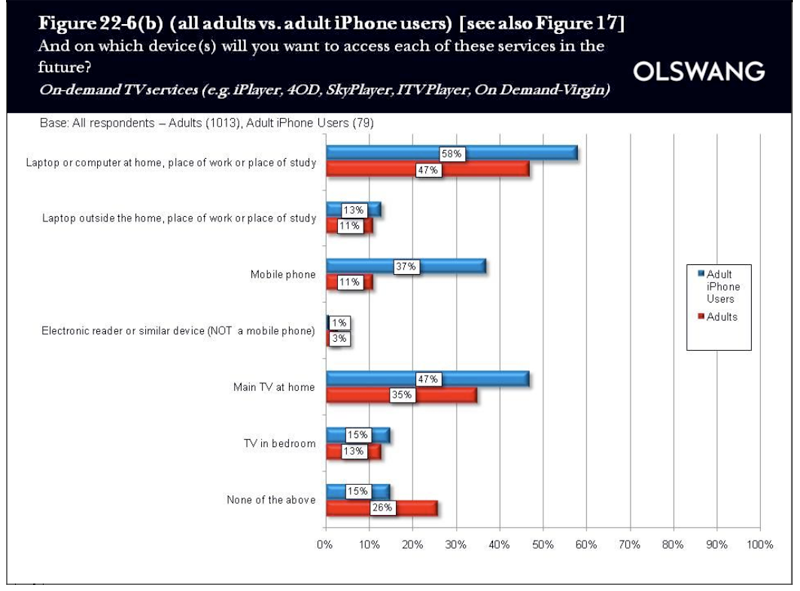 AppleInsider is supported by its audience and may earn commission as an Amazon Associate and affiliate partner on qualifying purchases. These affiliate partnerships do not influence our editorial content.
Owners of Apple's iPhone are more likely than any other consumer to pay for digital content across a range of content types, including newspapers, a new study has found.
In addition to a greater willingness to agree to micropayments or subscriptions for content, U.K. iPhone users are also more likely to embrace different forms of technology, such as on-demand programming both on their handset and their living room TV. The annual Olswang Convergence Study published Wednesday also found that iPhone users retain enthusiasm for future technology: 37 percent want access to on-demand TV on their phone, compared to 11 percent among average consumers.
"The survey gives fascinating insight into iPhone users' behaviour in terms of current use, intended future use and willingness to pay for a wide variety of content across a range of platforms and devices," said Matthew Phillips, a partner with Olswang. "Having discovered the habit and simplicity of paying for apps and other services on the iPhone, it would seem that iPhone owners are also more willing to pay for content of many types than the general online population. To maximise their revenue opportunities in the digital environment, companies need to build payment solutions into consumer propositions on other platforms that are as easy to use as that on the iPhone."
The study was a collaboration between Olswang and YouGov, who polled 1,013 U.K. adults and 536 children aged 13 to 17.
The study does not offer good news for the print industry, as only 19 percent of respondents said they are willing to make micropayments or commit to subscriptions for newspaper content. Here as in everywhere, though, iPhone users were more likely to agree, with 30 percent saying they would pay to read articles or columns.
But 58 percent of adults said they would pay online for a film just released in theaters, and 52 percent said they would pay for online access to a movie that won't be released on DVD for at least two months. In addition, 40 percent are willing to pay to watch a film that is already available on DVD or on-demand via TV.
Here again, iPhone users are more open to the concept: 73 percent would pay to see a movie currently in theaters via the Web, 67 percent for one that won't be released on DVD for some time, and 54 percent for one available through traditional means.
The same rules apply to TV, where 30 percent of consumers would pay for a TV show they missed, while 41 percent of iPhone users are willing.
"The digital ecology has a complex mix of free, ad-supported and paid-for content," said John Enser, partner with Olswang. "As people look to access social media and consume music, films and TV shows on an increasing range of devices, it appears that they can be taught to pay, just so long as it is easy and painless and that they value what they receive in return. However, newspaper owners have an uphill struggle to convince consumers to pay."
Undoubtedly the iPhone's connection with iTunes for digital content, as well as the microtransaction nature of the App Store play a part in warming consumers up to the idea of regularly purchasing content online and via their phone. iTunes is the No. 1 seller of music in the U.S. with a 25 percent market share, and in September, Apple announced that more than 2 billion applications were downloaded from the App Store.
It's just more evidence that iPhone users represent a different type of consumer from the traditional market. This summer, one survey from Forrester Research found that iPhone users are richer, younger, and perhaps even more productive at work than those who use competing smartphones.