Retailers want in on Apple's iPod touch point-of-sale system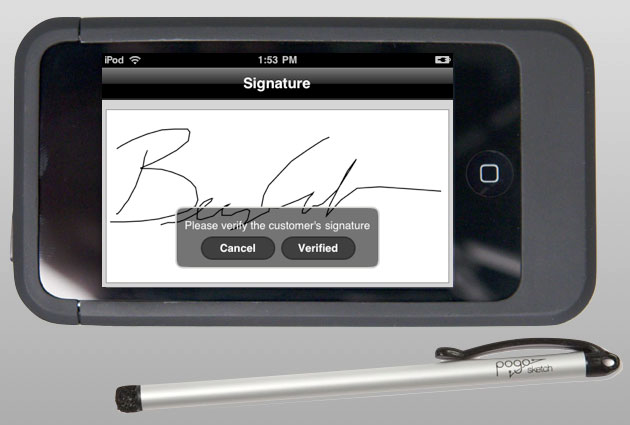 Businesses of all sizes have reached out to Apple with interest in its iPod touch-based point-of-sale system, which recently debuted at the Mac maker's stores.
Gary Allen of ifoAppleStore has reported that Apple has been "deluged" with inquiries about the system, which utilizes a custom-built shell that encases the iPod touch and adds a barcode scanner and magnetic stripe reader to it. The hardware attachment is partnered with custom-built software that allows Apple retail employees to check out customers quickly and easily from any point in the store.
"Since the debut of the iPod POS, inquires have been coming from all directions, including from end-user small businesses, larger chains and system integrators. Until now, Apple's response has been that the iPod POS is a proprietary product, unavailable for sale," Allen said. "But now, tipsters say, Apple retail executives have asked the retail store business specialists to collect contact information from anyone who inquires about the iPod touch system, apparently to create a database of potential customers if Apple decides to commercialize the product."
In November, ifoAppleStore and AppleInsider gave an exclusive look at Apple's new iPod touch-based EasyPay checkout system. The system, now being used in some retail locations, replaced the previous Windows CE-based portable computers, which employees complained were sluggish and crashed often.
The EasyPay Touch system handles credit, debit and cash transactions, as well as certain product returns. For credit card purchases, customers will write their signature on the iPod touch using a stylus.
AppleInsider has also heard of other potential new task-specific iPod touch applications said to arrive at stores in the U.S. and Europe in the near future. At least three exclusive, separate applications (including the "Easy Touch") are said to allow employees to accomplish a number of tasks more simply and efficiently.
One alleged application would allow workers to swap iPhones and iPods for replacements on the store floor — something that previously could only be done at the store's Genius Bar. The other was said to assist employees who work in a store's stock room.
The introduction of the iPhone's 3.0 software allows applications on the device to utilize external hardware plugged in to an iPhone or iPod touch. That change paved the way for Apple to create its own point-of-sale system.