iPod touch use outpaces iPhone, could foster Apple loyalty - report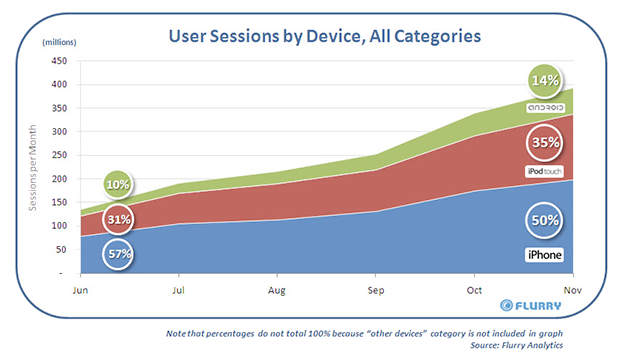 A new study of mobile device usage has found that the iPod touch is gaining in share, and suggests that the media player could eventually transition youth to the iPhone.
Mobile analysis firm Flurry this week released its latest Smartphone Industry Pulse report for November 2009. From June to November, the number of mobile device "sessions" by users grew from under 150 million to nearly 400 million. In that same frame, the share of usage for the iPod touch grew from 31 percent to 35 percent, as the iPhone shrunk from 57 percent to 50 percent.
Overall sessions for the iPhone grew from June to November, but its total share of the market decreased, when compared to both the iPod touch and Android — which also grew 4 percent.
Flurry has interpreted the findings to mean that the iPod touch is "quietly building a loyal base among the next generation of iPhone users." It estimates that just over 40 percent of the 58 million iPhone OS devices sold worldwide through September 2009 are the iPod touch.
"When today's young iPod Touch users age by five years, they will already have iTunes accounts, saved personal contacts to their iPod Touch devices, purchased hundreds of apps and songs, and mastered the iPhone OS user interface," the report said. "This translates into loyalty and switching costs, allowing Apple to seamlessly "graduate" young users from the iPod Touch to the iPhone. For OEMs hoping to challenge Apple, we believe an even greater sense of urgency must be adopted."
The study relied on a sample size of over 3,000 applications used by 45 million consumers over four platforms: the iPhone OS (which includes the iPod touch), Google Android, BlackBerry and Java ME. More than 15 million "end user sessions" are tracked by programs that have the Flurry analytics software included.
Flurry's evidence that the iPod touch is used by teens and youth who are not yet in a position to own the iPhone is bolstered by the growth of the media player as a device for social networking and games. Since June, the share of sessions for the iPod touch for social media has grown by 2 percent, to 42 percent, and its share of game usage has grown by 6 percent, to 49 percent. In both of those categories, the iPod touch outpaced the iPhone and Android.
"Together, Social Networking and Games category usage reflects the strength of the iPod Touch Generation's influence among its peers," the report said. "As this segment increasingly migrates its social habits to smartphones, Flurry data shows that the iPod Touch is the largest beneficiary."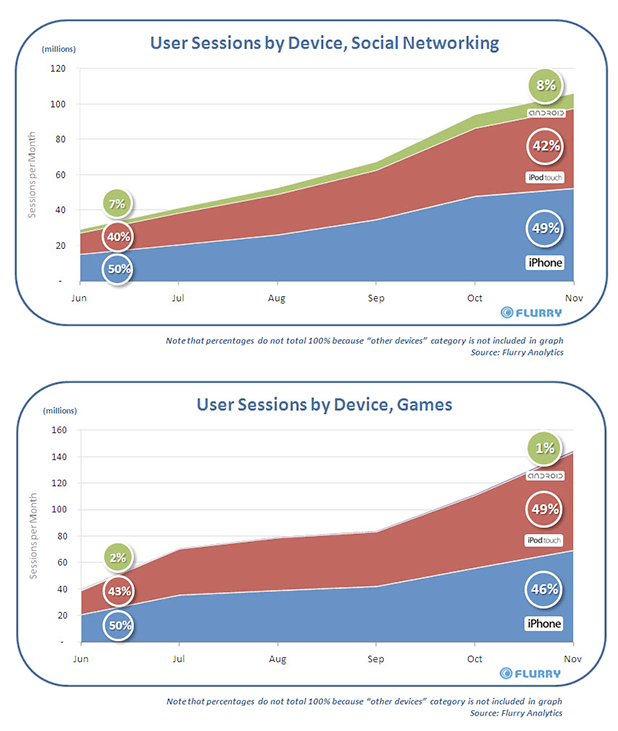 The iPod touch has been seen as a small but stealthy asset in Apple's product lineup. As overall sales of iPods shrink, the iPod touch has grown. In September, Apple released a new 64GB iPod touch with a faster processor boosting performance up to 50 percent.