Details on Intel's potential Mac Pro 6-core i7 processor leaked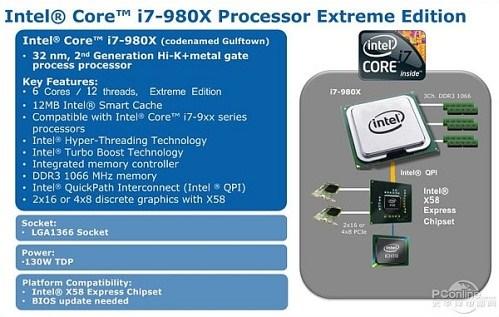 Intel's forthcoming "Gulftown" 32nm, six-core processor will be known as the Core i7-980X and could be a part of new Mac Pro systems from Apple in early 2010.
Contrary to earlier reports, the new processors will not adopt the Core i9 name, and will allegedly keep the Core i7 title, according to leaked information relayed by Hardmac, the English-language version of French Apple site MacBidouille. The new processor, code-named "Gulftown" will fall under the i7 "Extreme Edition" category, the first of which will be the i7-980X.
The alleged roadmap from Intel shows that the processor will clock in at 3.33GHz. That chip is expected to arrive in March 2010, but in the past, Apple has reached exclusive agreements with Intel to be the first to carry its new processors.
Previous reports have suggested Apple is testing the new Xeon chip, based on the Gulftown architecture, in its Mac Pro desktop. The new, upgraded processor features more horsepower and lower power consumption, and will be the first dual-socket, six-core processor for Intel.
The new 32 nanometer chips have 12MB of L3 cache, and six cores with 12 threads for each CPU. Apple usually doubles the processors in its high-end professional workstations, so it's possible the new Mac Pro system could have a total of 12 cores and 24 threads. The new hardware could be released sometime in the first quarter of 2010.
The last major refresh to the Mac Pro equipped it with its Nehalem Xeon processors, with a high-end eight-core Mac Pro offering two 2.26GHz Quad-Core Intel Xeon 5500 chips. Earlier this month, Apple quietly upgraded that to a potential maximum 2.93GHz eight-core system.