Mac sales jump 16.4%, help PC market return to growth in Q3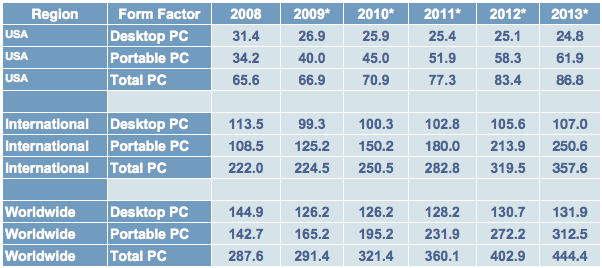 Led by the strength of the Mac, worldwide PC sales grew 2.3 percent year over year in the third quarter of 2009, bringing to an end three consecutive quarters of decline.
New statistics released by research firm IDC Thursday show that the worldwide PC sales slump turned a corner in the third quarter. The company has forecast that it was only the start, with double-digit gains expected in the industry through 2013.
Significantly outpacing the rest of the industry was Apple's lineup of Macs. The company had already noted in October that its record-setting third-quarter sales topped 3 million.
IDC Worldwide PC Tracker Research Analyst Jay Chou told AppleInsider 1.7 million of those sales were in the U.S., representing a 9.8 percent increase. Globally, the Mac saw a 16.4 percent increase when compared to the third quarter of 2008.
"In either case, they outperformed the total market quite well, and (it) shows a testament to their unique ability to market to a loyal audience even in tough times," Chou said.
After three straight quarters of decline, the overall PC market grew based on back-to-school and holiday demand, the firm said. Now, PC makers are attempting to position themselves strongly as the market begins to recover, embracing thin designs, touchscreens, and LED panels.
"The technology changes and efforts to stand out in an increasingly commoditized market will lead to further product and customer segmentation," Chou said, "and add to the advantage of market leaders in covering the breadth of products, technologies and market segments."
Half of the total market is represented by emerging markets. Those territories include parts of Latin America, Central/Eastern Europe, and Asia/Pacific. Those markets are expected to lead the way starting in 2010 with double-digit growth.
IDC has predicted that desktop shipments will remain flat, while portables will see an 18.1 percent increase and will drive overall gains. In the second half of 2010, the lagging commercial sector is also predicted to pick up, as there are now hints that IT spending is set to return.
*Forecast data. PC Shipments By Region And Form Factor, 2008-2013 (Shipments in millions). Source: IDC
Mac sales beyond the third quarter, in October and November, have been projected to increase 21 percent, meaning Apple has likely maintained its momentum headed into the holidays. Apple is expected by some analysts to sell at least 3 million Macs this quarter.
Desktop Mac sales in particular have grown since the new iMacs, which helped the segment grow 74 percent. Portable Macs saw a 5 percent increase in October and November.
In October, the 21.5-inch iMac was the best-selling desktop, and the 13-inch MacBook Pro the best-selling laptop in the U.S. The 27-inch iMac was the third-best-selling desktop for the month, and Apple took four of the top 10 positions for notebook sales.
AppleInsider has affiliate partnerships and may earn commission on products purchased through affiliate links. These partnerships do not influence our editorial content.