Magic Mouse helps Apple double share of market in 8 weeks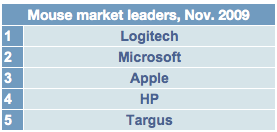 Apple's new Magic Mouse helped Apple see a twofold increase in its share of domestic mice sales last month, AppleInsider has learned, garnering the Mac maker a double-digit slice of the market for the first time ever.
NPD Group sales data for the new device, which was unveiled alongside new iMacs this past October, shows Apple to have captured just over 10 percent of the market in November, representing a first for the Cupertino-based company.
"Sales in November were through the roof," Stephen Baker, analyst with the market research firm, told AppleInsider. "[The Magic Mouse] had the best month for a mouse product from Apple that we've ever seen."
The aforementioned sales data was compiled from standalone Magic Mouse sales only — those included with the new 21.5-inch and 27-inch iMacs were not factored into the mix. Similarly, however, the new iMac was the best-selling desktop in the U.S in October.
Still, the sales surge wasn't enough to propel Apple from its No. 3 position in mice sales overall, leaving it ahead of HP and Targus, but well behind market leaders Logitech and Microsoft.
"They're not exactly challenging Logitech or Microsoft at this point, who are far and away the leaders, but they've been No. 3 for a long time," Baker explained. Still, the analyst coined the Magic Mouse's debut a "tremendous performance," which saw Apple double its share of the market in less than 2 months.
Whether or not Apple can sustain its increased sales volume of mice sales over time remains to be seen. New Apple products are usually accompanied by publicity and buzz that pushes their sales through the roof in the early going, but often those sales die down over time.
"The Time Machine did great the first 8 ot 10 weeks too, but then it kind of settled down," Baker added. "That is a pattern we've seen with a lot of these products."
The Magic Mouse lacks any physical buttons or the scroll ball of its predecessor, the Mighty Mouse. Instead, the hardware senses the movement of fingertips across its surface in a multi-touch fashion much like the technology employed in Apple's iPhone, iPod touch, MacBook and MacBook Pro lines.
The $69 hardware communicates with a Mac via Bluetooth, and features capacitive touch sensors underneath its shell to track individual finger movements. The entire mouse's surface, from the Apple logo up, is also covered with touch sensors.