Logic Pro, MainStage go 64-bit; Warner Music loses $11M on Lala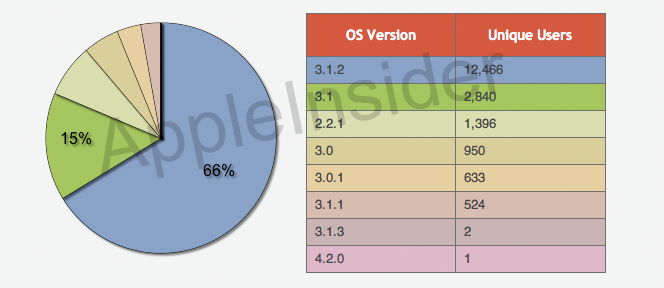 AppleInsider is supported by its audience and may earn commission as an Amazon Associate and affiliate partner on qualifying purchases. These affiliate partnerships do not influence our editorial content.
Apple's professional audio applications were updated to add 64-bit support Tuesday, Warner Music came up $11 million short in its investment in Lala, a supposed sighting of iPhone OS 4.2 is revealed, and a former Apple executive has joined a close partner of competitor Palm.
Logic Pro, MainStage gain 64-bit mode
Apple on Tuesday issued updates for Logic Pro and MainStage, allowing the audio applications to run in 64-bit mode. This allows users to use more memory with the application.
Previously, when running in 32-bit mode, the applications were restricted to access on 4GB of memory. Now, Apple said, there is essentially no practical limit to addressable memory.
"As a result, all the installed memory that is not needed by the OS is available for use by Logic Pro or MainStage, which can be meaningful if your Mac has more than 4GB of memory installed," an Apple FAQ reads. "This larger amount of memory allows you to run far more instances of memory intensive plug-ins, such as sample-based software instruments."
The company noted that there is no difference in sound quality between running the applications in 32-bit or 64-bit modes. Prior versions of the software used 64-bit processing resolutions for plug-ins when it was decided there was an audible benefit.
Users can determine whether the software is running in 32-bit or 64-bit mode by choosing About Logic Pro or About MainStage. The updates can be downloaded through Software Update.
Apple began a significant 64-bit push with Mac OS X 10.6 Snow Leopard, when the operating system's GUI and kernel were done in 64-bit. For more on the role of 64-bit in the Mac platform, see AppleInsider's Road to Mac OS X Snow Leopard series.
Warner Music sold share in Lala at $11M loss after Apple purchase
Before Apple purchased music streaming service Lala for $85 million late last year, Warner Music was an investor in the company. Warner purchased a minority share in Lala for $20 million in 2007.
The music company sold its share in Lala in December to Apple, for which it received $9 million in cash. The sale price was disclosed in a filing with the Securities and Exchange Commission revealed Tuesday.
"The warrants had an exercise price that was in excess of the total merger consideration paid in respect of the shares for which it could be exercised and, therefore, expired at the time of the closing of the sale of (Lala) to Apple," the filing reads.
Warner Music, however, continues to have content agreements with the now-Apple-owned company. Those agreements earned Warner $300,000 in fees during 2009.
Apple's purchase of Lala is expected to pave the way for a cloud-based iTunes streaming service. Some have speculated that a recent update to iTunes Preview, allowing song samples to be heard from a Web browser, could be a sign of things to come.
iPhone OS 4.2 spotted in analytics
When checking statistics for his applications through Pinch Media, iPhone app developer Tim Martin encountered a strange find: A single iPhone identified as having version 4.2.0 of the mobile operating system.
While the identifier could theoretically be faked, it's worth noting that recent reports have suggested the iPhone 4.0 SDK could appear as soon as this month.
Rumors have suggested the development kit includes a "simulator" that aims to make it easy for developers to adapt to different screen resolutions, and possibly be compatible with Apple's forthcoming touchscreen tablet.
Martin is a developer with flakasoft, which has created "Robert Lang's Origami" and "The Paper Plane Guy's Construction Kit."
Former Apple exec joins Elevation Partners
Elevation Partners, a private equity firm, announced Tuesday that Avie Tevanian joined the company as managing director. Tevanian left Apple, where he served as chief technology officer, in 2006.
Tevanian's connection to Apple co-founder Steve Jobs began when the two met at Carnegie Mellon University. He joined Jobs at NeXT and used his knowledge of the Mach kernel to form the foundation of the NEXTSTEP operating system, which later evolved into Mac OS X.
When NeXT was acquired by Apple, Tevanian followed Jobs and began working on Mac OS X, the operating system for which he is largely considered the grandfather. The move is another example of Palm's continued courting of former members of Apple's top brass. Elevation Partners has a 25 percent stake in Palm.
In 2007, former Apple CFO Fred Anderson joined Elevation Partners as a general board member. In addition, Jon Rubinstein, former senior engineering VP with Apple, is the chief executive of Palm.
Rubinstein, considered to have played a crucial role in the creation of the iPod, made waves last week when he claimed that he has never used an iPhone. Even though Palm is a competitor with Apple in the handset space, Rubinstein also said he doesn't worry about the iPhone, and his company doesn't pay much attention to Apple.